Shrewsbury's Wyle Cop becomes wildlife walk during roadworks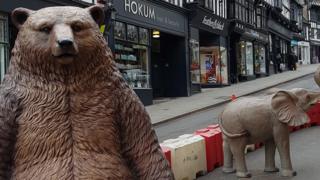 Giant lions, bears and gorillas are lining up on a Shropshire road as part of a celebration of evolution.
Wyle Cop in Shrewsbury has become #Wildcop while being partially closed for resurfacing.
Six fibreglass life-size model animals have made it their home as part of a project based upon the town's links to naturalist Charles Darwin.
The team behind the project said it wanted to do "something fun".
The #WildCop project was the brainchild of Shrewsbury BID who brought the figures in for two weeks as part of the Darwin Shrewsbury Festival.
As part of the plans, a vacant shop front has been turned into rainforest with activities for children due to start there on Friday and run until 23 February.
A spokesman for Shrewsbury Bid said: "A part road closure presented an opportunity to do something fun over half term that wouldn't normally be possible and to attract people into town and visit Wyle Cop."