Female rowing crew in 60-day Atlantic triumph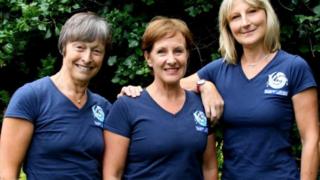 A female rowing crew has broken three world records by crossing the Atlantic in 60 days, organisers say.
Sharon Magrath and Di Carrington, from Shropshire, and Elaine Theaker, of Tredegar, left the Canary Islands in December and got to Antigua on Tuesday.
Ms Carrington became the oldest woman to cross the ocean by rowing aged 62 and they set a record for the fastest female trip across it, officials said.
The trio completed the journey despite capsizing twice in the last 24 hours.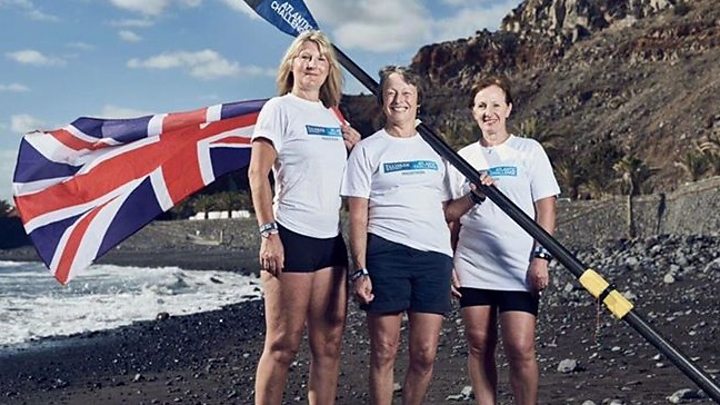 With Ms Magrath and Ms Theaker being aged in their 50s, the other record was for the oldest female trio to cross the Atlantic, officials from the 3,000-mile Talisker Whisky Atlantic Challenge stated.
Ms Carrington, said on Facebook if she could succeed at 62, "anybody can do whatever they want, if they really want to do it".
The business owner, from Pontesbury, who has retired from teaching outdoor pursuits, said she was "quite proud to be the oldest".
She said: "People get to any age and they say 'Oh I can't do it, I'm too old'.
"But you know what, you're never too old... My body's falling apart.
"But with a team like this and support from home, it's been great."
Following the successful voyage, Ms Theaker said: "Yes it was very hairy and scary and we weren't sure whether we had the determination and the courage to do it.
"But... we dug deeper than we've ever dug before."
Ms Magrath, a midwife from Shrewsbury, and Ms Theaker were 54 when the challenge began.
Ms Theaker, a lawyer from Tredegar, said: "It was a journey of exhilaration and magical moments and moments of terror and moments of fear and misery and desperation all rolled into one.
"These are phenomenally remarkable incredible women and I am so proud to have been in that boat with them."