Telford abuse: MP 'inundated' with child grooming reports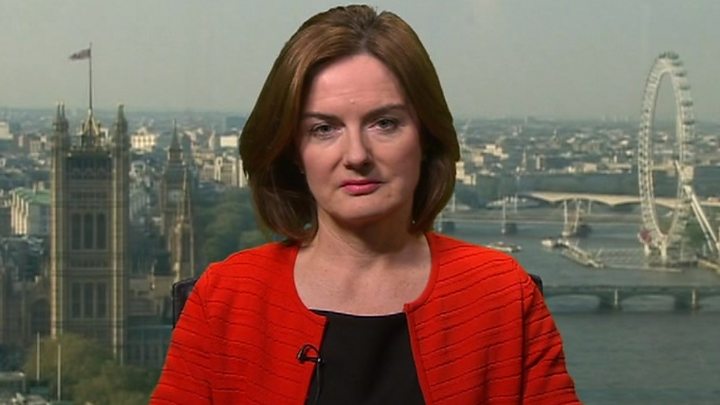 More child grooming victims in Telford have come forward in the wake of reports about the scandal, its MP said.
Conservative Lucy Allan said she had been "inundated" with reports since speaking about the issue in Parliament.
West Mercia Police said it was currently working with about 46 people who were victims or at risk.
The police and crime commissioner (PCC) has "sought clarification" on reports a 2013 force memo said some child sexual abuse victims had "consented".
The Sunday Mirror reported that up to 1,000 girls in the Shropshire town could have been victims of child sexual exploitation (CSE) since the 1980s.
The wording of the memo has been criticised in the Mirror for appearing to blame victims and PCC John Campion said he thought it was a "poor choice of words".
Since her speech in Parliament, Ms Allan told the BBC she had been "inundated with emails saying, 'This has happened to me'".
She said: "I have also spoken to a consultant psychiatrist who has had many patients who have experienced this issue and are dealing with the mental health consequences of this terrible crime.
"It is clear this has been going on for many years and a significant number of girls have been affected."
On Thursday it emerged members of Telford's Cate (Children Abused Through Exploitation) team, which a 2016 council report said were overworked and under-resourced, had raised concerns in preceding months about the lack of time they were able to spend on high-risk cases.
Meanwhile, children's charity the NSPCC said demand for its services had risen in the past year.
It delivered 3,122 counselling sessions about CSE via its Childline service in 2016/17, compared with 2,340 in 2015/16 - a 33% increase.
Barnardo's said it had been working in Shropshire since last October to provide counselling sessions to young people who are "at high risk of sexual exploitation".
Chief executive Javed Khan said: "The scale of the abuse in Telford is deeply shocking and those responsible must be held accountable for any failings uncovered.
"Our specialist services see every day the damage caused by these horrific crimes."
A spokesman for Telford and Wrekin Council said it had not received any new reports of CSE but added the council was not the only route for victims who might want to contact the authorities.
Ms Allan has raised an Early Day Motion in Parliament to call on the council to commission a Rotherham-style independent inquiry into the situation.
The council says it wants the government to commission the report rather than itself because its "independence and scope could be called into question".
Some of the cases also pre-date the local authority, which was formed in 1998.
The Home Office has said the Independent Inquiry into Child Sexual Abuse will be looking at Telford in its investigation into child sexual exploitation, but it is down to local authorities to decide whether a further review is necessary.
West Mercia Police Supt Tom Harding, who is in overall charge of policing in Telford, said police and authorities in the town were working with "approximately 46 young people" who were victims of CSE or considered "at risk".
He added: "Therefore, I significantly dispute the 1,000-plus figure, and do feel it is sensationalised.
"Read the headlines, read the reports. What are they actually discussing? They're discussing cases from 20 or 30 years ago, offending back in the 1990s."
Operation Chalice
Seven men were jailed in 2012 as part of West Mercia Police's Operation Chalice, including brothers Ahdel Ali and Mubarek Ali.
The force said more than 100 girls could have been targeted by the gang between 2007 and 2009.
Many of the seven men worked for or had connections with fast food restaurants across Telford.
Update 16 March 2018: An earlier version of this story referred to the Cate team receiving 2,000 calls for assistance in the past two years. This figure was actually the number of queries from professionals received by national umbrella body NWG Network since April 2016.