Telford council considers child abuse inquiry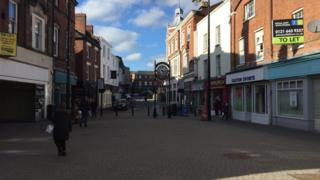 An inquiry into child sex abuse in Telford is being considered by the local council in the wake of its call for a government-led investigation.
Telford & Wrekin Council said it had not yet identified a budget for it, but it was considering "all the options".
It comes after a Sunday Mirror report on "groups of mainly Asian men" targeting vulnerable white teenagers in the town since the 1980s.
The Home Office has not yet responded to calls for the government inquiry.
The Labour-run authority said a government-led statutory institutional inquiry would have more powers than a council-led "independent expert inquiry", including the ability to compel witnesses to give evidence.
'May cost millions'
It has also called on the national Independent Inquiry Into Child Sexual Abuse, which has confirmed it has been contacted, to hold its own inquiry into the abuse.
The authority previously said a council inquiry would "need a budget which could run into millions of pounds".
However, Conservative MP for Telford and Wrekin, Lucy Allan, said such an inquiry must be held "as soon as possible", but the authority did not need to spend "millions."
Calls for the inquiry come after Operation Chalice, launched by West Mercia Police, led to the jailing in 2012 of a group of men officers believe may have targeted more than 100 girls.
A spokesman for Telford and Wrekin Council said: "We have to be absolutely clear on all the options available.
"We have to look at the legal, financial and practical implications of an independent expert inquiry.
"We want to deliver the strongest possible inquiry and the best outcomes for victims."
But Ms Allan said it was "essential for an independent inquiry to be held as soon as possible".
She added: "The Rotherham Inquiry cost £123,000 - whilst Telford & Wrekin Council may choose to put in place something more extensive, there is clearly no requirement for them to spend the 'millions' they referred to."
The authority working on how it could hold its own inquiry and a report on it will be presented to councillors on 29 March.