National abuse inquiry coming to Telford within 'months'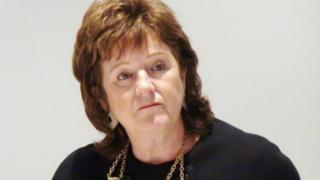 The national inquiry into child sexual abuse will begin sessions in Telford "in the next few months".
The Independent Inquiry into Child Sexual Abuse (IICSA) said it would be speaking to victims as part of its Truth Project.
It comes after a Sunday Mirror report that hundreds could have been victims of abuse in Telford since the 1980s.
The inquiry is examining the extent to which organisations failed to protect children from sexual abuse.
IICSA said the project was to give victims and survivors of child sexual abuse the chance to speak about their experiences.
It said there were no legal consequences to attending Truth Project sessions and participants could make their own recommendations for change.
Chair of the inquiry Prof Alexis Jay, who headed the inquiry into child sexual exploitation in Rotherham, said it was "vital" that anyone who wants to participate in the project had the chance to do so.
She said: "Child sexual abuse can take many different forms and we want to hear from as many victims and survivors as possible."
It comes as Rotherham's MP Sarah Champion, said Telford & Wrekin Council needed to listen to the stories of the victims involved and called for it to hold a further inquiry.
The Labour-run authority has previously said a government-led statutory institutional inquiry would have more powers than a council-led "independent expert inquiry", including the ability to compel witnesses to give evidence.
But it has now said it will look into how it could hold its own investigation and a report will be presented to councillors on Thursday.
Ms Champion said a non-statutory inquiry would be a good way forward, showing it would recognise and accept what victims and survivors have gone through.
"I personally believe that they (the victims) have been let down historically and so we owe it to them to put a marker in the ground."
Telford's Conservative MP Lucy Allan has also called for a Rotherham-style inquiry into the allegations.
Councillor Shaun Davies, leader of Telford & Wrekin Council, said he was "grateful" for the decision by IICSA to bring the project to Telford.
He added: "This is another very important step forward in ensuring that we have as true a picture as possible of what happened in Telford to make any further recommendations of changes to the work of partners in Telford continue to do to tackle and prevent this vile crime."
Operation Chalice, launched by West Mercia Police, led to the jailing in 2012 of a group of men officers believe may have targeted more than 100 girls.