Protest over youth mental health service in Shropshire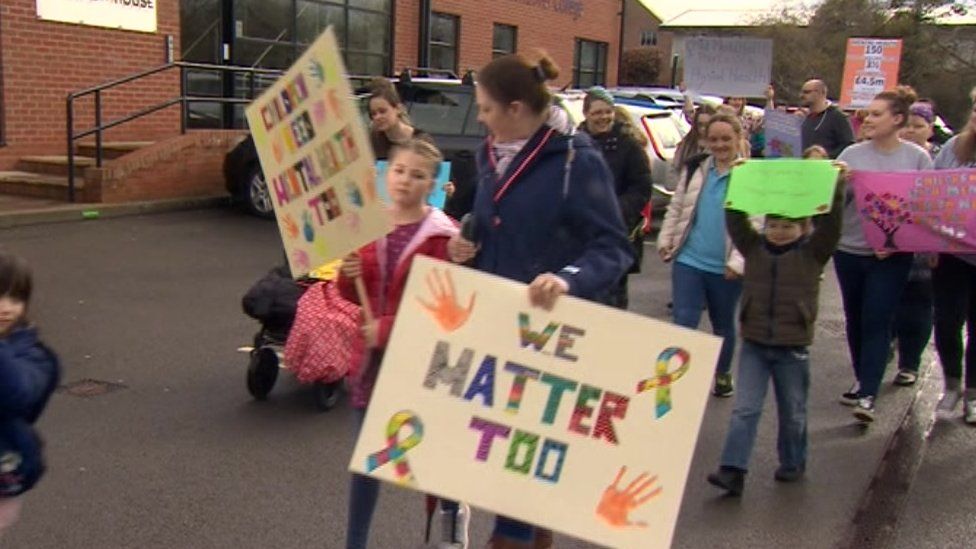 Parents say a lack of consultants for young people's mental health services is dangerous for their children.
Families said lives are at risk because of cancelled appointments, as the Child and Adolescent Mental Health Services (CAMHS) in Shropshire currently has only one consultant psychiatrist.
They said there has been a lack of continuity for patients.
The trust running the service said it is recruiting but there is a "national shortage of child psychiatrists".
Lisa Roberts, who organised Tuesday's protest at Coral House, a community health centre in Shrewsbury, said: "You don't get any consistency, some of our families have had 14 different consultants in the last number of years.
"Children with autism need consistency, they need to see the same person, they need to build up a relationship and that just goes flat.
"Our children's lives are at serious risk."
It said it has a new consultant due to start next month and has been working to improve general staffing levels in the "specialist mental health element of the service", with a further seven people joining the Access and Brief Intervention Service.
It also said it is using some locum staff to meet demand.
It added: "We are working with a number of agencies at the moment to find suitably qualified staff to work with the team but this can be a lengthy process and can take some time."
Related Internet Links
The BBC is not responsible for the content of external sites.