Shropshire fire authority leaders seek judicial review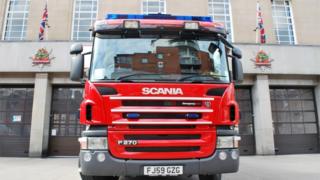 Fire authority leaders have mounted a legal challenge against a decision to transfer control of a fire service.
Shropshire and Wrekin Fire and Rescue Authority is seeking a judicial review of a ruling by former Home Secretary Amber Rudd.
It gave West Mercia Police & Crime Commissioner (PCC) John Campion control over the service.
He has proposed a plan he said will save £4m a year, but the authority has argued the figure is misleading.
The fire authority claims an independent assessment of the PCC's business case found the proposed governance would "not affect public safety".
More than 60% of respondents initially voted to support the proposal after a three-month consultation process.
But Keith Roberts, the fire authority's vice-chairman, said he believed the consultation had misled people.
He said: "We very much regret having to take this action but we have been left with no choice."
Mr Campion said: "I am disappointed the Fire Authority is choosing this course of action.
"It will delay benefits being delivered for our local communities and emergency services alike, and result in further significant and unnecessary use of taxpayer's money."