Buyer found for former Ironbridge power station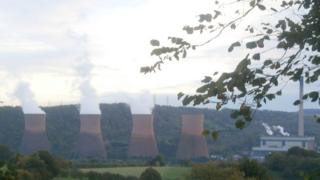 A decommissioned power plant has been sold to a regeneration company, its owners have said.
Ironbridge power station, in Shropshire, opened in 1969, but stopped generating electricity in November 2015.
Owners Uniper have sold the 141 hectare (350 acre) site to Harworth Group for an undisclosed price.
Shropshire Council has previously earmarked it as a potential site for housing in its local plan.
Uniper, which was in charge of decommissioning the power station, put the site up for sale in February 2017.
Iain Thomson, from Harworth, said the company's first concern at the site was safety and it will be putting in a "new security presence".
It will then examine the full location, before launching a programme later this year to get input from the public about what the future of the site should be.
Shropshire Council had listed it among potential sites that could be used to build 28,750 homes before 2036, along with the Clive Barracks at Tern Hill.
As part of its Local Plan Review report, the council said it would be considered for "mixed-use", with both housing and commercial or employment opportunities built.
Plans for the demolition of the power station were submitted to the council last autumn.
Subject to approvals, Harworth Group will take on the responsibility for both the demolition and its redevelopment.