'I trusted my daughter's abuser with my life'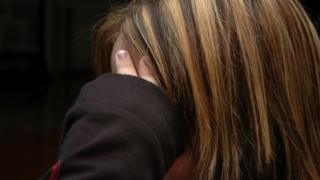 Julie's daughter was 14 years old when she was targeted by her martial arts coach Matthew Kendall, who went on to shoot himself when his abuse was uncovered. Julie* tells the BBC about the ordeal faced by Sarah*, who's now been awarded damages by the Criminal Injuries Compensation Authority.
Sarah had a seminar with the Telford Thai Boxing Club group, which wasn't out of the ordinary for her to attend anything like that, and she was staying over in Bolton.
I had a mobile number ring my phone about 12.30 on the Saturday night and it was Bolton police.
I thought there must have been a fight, that's what I initially thought.
The officer asked me where I thought Sarah was and did I know who she was with - I couldn't understand why she was asking me.
I said I know where she is and who she's with. She said 'would you be surprised if I told you she was staying in the same room as Matthew Kendall?'.
I told her she couldn't be, I'd paid for her to have her own room. The officer said we needed to drive to Bolton, because Matthew Kendall has been arrested for child grooming.
Initially I thought it had got to be some sort of mistake. Me and my husband got in the car and drove to Bolton. On the way my husband said to me 'Matthew isn't a paedophile'. I just looked at him and said 'what does a paedophile look like?'.
We were so trusting, because this is a man that's working with social services and the police, so you've got no reason to doubt them.
But after the arrest, it's almost like someone had flipped a switch in my head and it was like everything fell into place after that.
There had been a change in Sarah's behaviour before we found out.
She wouldn't sit in the living room with us, she wouldn't talk to us. She would literally walk in the house and go straight upstairs to the bedroom.
As it went on I kept asking her and she kept saying she was fine, but we could tell in herself she wasn't happy, but we just put it down to being a typical teenager.
She's really funny - she's dry with it, and it had gone. She always had that fire in her belly and determination, but it had gone. There was nothing.
I used to take her down to the gym and she would sit outside in the car. I would say 'are you going in?', she would say 'Mum, I hate him, he's disgusting'. I'd say 'don't go'.
We never forced her to go, it was always something she wanted to do and then she would say she's got to.
I never understood at the time, but once that came out all of it made perfect sense.
It was only after he was arrested that I started to think back and how she'd be later and later being dropped off back home.
I'd ask why they were so late and my daughter would just say they had to stay behind and pack things away, but it was later and later by the time she got home and I'd have to sit up waiting.
Sarah's situation was discovered that night in Bolton when the woman from reception rang the NSPCC. She'd been asking Sarah questions at reception. The receptionist must have thought she's clearly a child.
The night we went to Bolton to pick her up, when she came out she had refused to speak to the police. I told her there were monumental consequences to this if you've got anything to tell them.
She went back in and spoke to them. She said that he had told her if she ever told anybody what he was doing she would end up with a criminal record.
My daughter was caught naked in his room by the police. You can't get away from that. He was caught red-handed.
She was scared. It wasn't that he had been arrested, it was the repercussions of what she had told them that she was scared of, and then in the space of 72 hours our lives just changed forever.
Not only are we being told this man has been doing x, y, z to our daughter, he then shot himself so she had the death of a 39-year-old man on her conscience.
Since his death Sarah is trying to move on with her life, but still suffers anxiety and flashbacks.
She has been awarded a payout, which she has said she wants to donate to charity. But it's not about the money, it's about acknowledgement [of her being a victim of crime].
It goes a long way; as a family he nearly broke us with what he had done.
We would never have believed that this could happen to our daughter and we would never have imagined it of Matthew as we trusted him completely. I trusted him with my life.
Matthew Kendall was never charged with any offences.
However, in police interviews Sarah said Mr Kendall, from Wolverhampton, would hug her during training sessions, and when they were in his minibus together he would pull into lay-bys and get her to sit on his lap.
Sarah told police he suggested she attend one-to-one training sessions and he would lock the door and put the shutters halfway down. She said he would kiss her and sometimes she would kiss him back.
She also said he touched her intimately over clothing and guided her hand over his clothing.
The Thai boxing club, which Mr Kendall owned, closed after his death.
Following representation through legal specialists Hudgell Solicitors, Sarah was awarded damages by the Criminal Injuries Compensation Authority (CICA), a Ministry of Justice-funded scheme to support victims of crime.
Michelle Nurse, a specialist in handling claims to the CICA at the firm, said: "The CICA scheme delivers justice in cases such as this where somebody has been the victim of a crime even where there is no criminal conviction. By taking his own life, he of course prevented there being the natural course of justice in criminal courts over his alleged crimes.
"We feel it is significant that the CICA has reflected upon the evidence presented to the police and have awarded damages to our client."
If you're worried a child is at risk, you can contact the children's social care team at his or her local council. You can choose not to give your details.
You can also report any suspicions online to the Child Exploitation and Online Protection command (CEOP), or call the NSPCC 24-hour helpline on 0808 800 5000 for expert advice and support.
If a child is at immediate risk call 999, or call the police on 101 if you think a crime has been committed.
Children and young people can call Childline free on 0800 1111 where trained counsellors are available 24 hours a day, every day.
*Names have been changed