Eloise Parry diet pills death: Mother hails 'justice'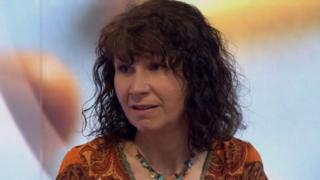 The mother of a student who died after taking toxic slimming pills said she has had "justice" after the man who sold them to her was jailed.
Eloise Parry, 21, from Shrewsbury, took eight tablets containing dinitrophenol (DNP) after buying them online from Bernard Rebelo.
Rebelo, 31, of Gosport, Hampshire was found guilty of her manslaughter and jailed for seven years.
Her mother, Fiona, said she felt "relief" following his conviction.
Speaking to Victoria Derbyshire, she added: "It was something I didn't expect to see happen.
"She bought the pills online and the internet is global. The chances of the seller being in this country were fairly remote.
"I feel, that she has had some justice, that there has been a public acknowledgement that what happened was wrong, that what he did was wrong and that there have been significant consequences for him."
Mrs Parry has also called for internet companies to more closely regulate sites like the one Rebelo was running.
"There are internet companies out there that allow these websites to set up and then when they are closed down allow them to open up again," she said.
"They must know what they are doing and I don't think that is a responsible way to behave."
Miss Parry, a student at Glyndwr University, had bulimia and borderline personality disorder, and her mother has also called for people to reduce the "stigma and shame" around mental health issues.
She added: "Maybe if we talked more openly about these things, she might not have got to that point.
"I'm not sure, we'll never know, but I'm hoping that by saying something about it things will move in the right direction, a slightly positive step."