Ironbridge power station fan gets cooling towers tattoo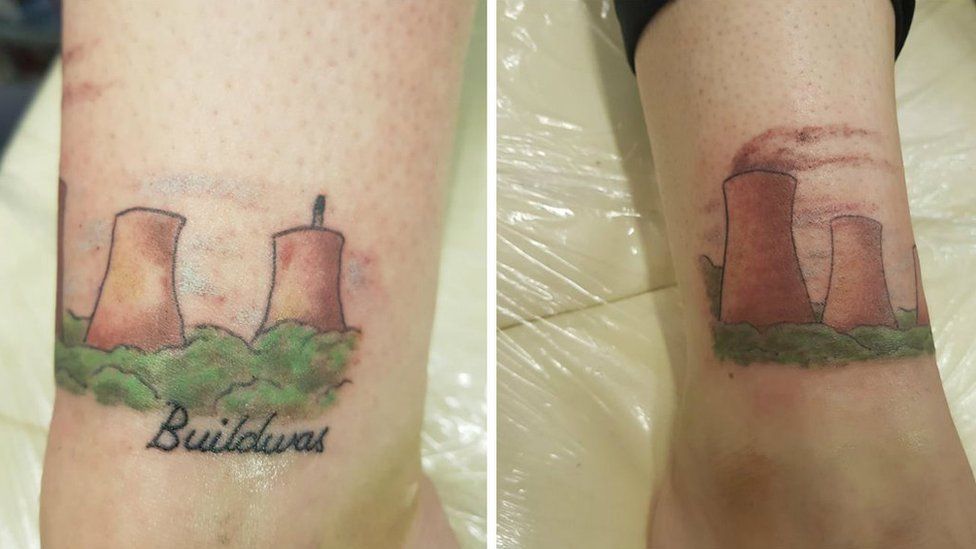 A woman left "heartbroken" by plans to demolish her local power station's cooling towers has had them tattooed on her leg.
Decommisioned Ironbridge power station, part of the Shropshire landscape since the 60s, was sold to a regeneration company last year.
But Sophie Anderson's affection for the site since childhood led to her getting all four towers tattooed on her ankle.
"At least when they're gone I can look at my leg and see they're still there."
The 22-year-old, from Ketley in Telford, added that it was a painful experience but the plans to knock down the towers, in Buildwas, "broke her heart".
"When I was younger and I couldn't sleep, or if I'd been naughty I'd always ask my mum to go and see the chimneys, so it's always been a memory for me," she said.
"It's going to be a childhood memory that's gone."
So Ms Anderson, who has nine other tattoos, said it was "a good idea" when her mother suggested the idea as a way of remembering them.
"Mainly my family knew I was going to have it done anyway because it was my mum's idea," she said.
"Because when I found out they were going to be demolished, it broke my heart. I was like 'oh no they can't go'."
Local opinion was divided when plans for the demolition - particularly of the cooling towers - were revealed, with some residents in the county seeing them as part of the town's heritage.
The new owners said the site will likely be a "new mixed-use development" including several hundred new homes.
A date for the demolition has not been set.
The power station opened in 1969, but stopped generating electricity in November 2015.
Related Internet Links
The BBC is not responsible for the content of external sites.