Shrewsbury plant closure could see nearly 200 jobs move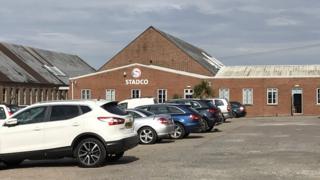 Nearly 200 workers at an engineering firm have been told its plant in Shrewsbury could close next year.
Car parts supplier Stadco said about 190 workers at the site on Battlefield Way could see their jobs transfer to sites in Telford, Castle Bromwich and Powys by mid-2019.
The firm's Canadian parent company, Magna, said it believes the move is the "best approach" for "growth".
Managers are consulting with councillors over the plans.
In a statement released on Thursday, Tracy Fuerst of Magna said the company's plans were in response to "challenging market conditions", having "pursued increased operational efficiencies and decreased costs across all its operations" in recent years.
More than 200 jobs had been created at the Shrewsbury site in 2014 after the firm won a £15m contract to supply parts to Jaguar Land Rover.
In 2010, the firm cut more than 100 jobs at its Coventry site, while in 2012, 60 jobs were cut at its the Shrewsbury base.
Stadco - the Shrewsbury Tool and Die Company - was named as such in 1971 but traces its roots back more than 200 years. It was sold to Magna in 2015.
Magna's sister firm Cosma officially opened in Telford in April this year, employing 300 workers.