Hundreds of Telford child sexual exploitation referrals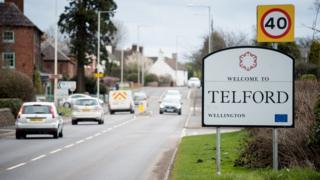 Almost 270 cases have been referred to a child sexual exploitation team since an investigation into a child sex abuse ring was launched, new figures show.
Telford has faced claims up to 1,000 girls may have been abused in the town since the 1980s.
A BBC Freedom of Information (FOI) request found 181 of 268 cases referred involved children under the age of 15.
Telford and Wrekin Council said it was unable to provide accurate details of historic cases prior to 2011.
The majority of the cases involve young girls between the ages of 12 and 15.
The number of children referred to the council reached a peak in 2016-17, with the Children Abused Through Exploitation (CATE) team accepting 58 referrals - 53 girls and five boys - in that year, the authority said.
The most recent figures from 2017-18, reveal 25 referrals - 19 of which were children aged 12-15.
An investigation by the Sunday Mirror into child sexual exploitation (CSE) in Telford, prompted the Labour run council to commission an immediate inquiry into abuse in the town.
West Mercia Police, which has disputed the scale of abuse reported in the past, also announced in August that hundreds of hotel workers had been trained to spot signs of CSE.
Previously, Assistant Chief Constable Martin Evans said that since 2016 the force's CSE team in Telford had arrested 56 people, resulting in 29 charges, with a number of these investigations still ongoing.