The New Saints boss challenges council repayment claim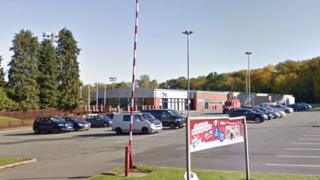 The chairman of a football club involved in a row over being given £80,000 for stadium improvements said it will see the council that provided the funds "in court".
Shropshire Council said The New Saints FC was given the money in 2012 "on the understanding it would be repaid".
But Mike Harris said it was a grant and repayments were voluntary.
He said he will counter-sue after the council launched legal action to recoup the outstanding funds.
The council calls the money a legacy grant but sees it as a loan. TNS, as the football club is known, has repaid £10,000.
The money was used to pay for a 500-seat stand at the Park Hall Stadium, in Oswestry, so the Welsh Premier League team could play European matches.
Mr Harris said a grant application for the money was filled in by his staff, with help from council officers.
And, he said, he has emails showing any repayments would be on a voluntary basis.
Mr Harris said: "We will defend and counter claim. My reputation, individuals, my company members' reputations have been damaged.
"I'm happy to see them in court."
An audit report by Shropshire Council earlier this year said it was "unclear why the funds were not recovered earlier".
Claire Porter, head of legal and democratic services at the council, said: "We have commenced court proceedings, and we are therefore unable to make any further comment during the course of the litigation."