Shrewsbury train patrols target 'county lines' dealers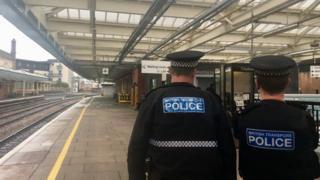 Drug dealers from Merseyside and the West Midlands are targeting Shrewsbury in 'county lines' operations, police said.
British Transport Police said it believes dealers are using the railways to move drugs and cash.
It has joined with West Mercia Police in a bid to "disrupt" the supply of drugs to the area.
Undercover and uniformed officers have been patrolling trains at the town's station.
The force said 'county lines' dealing involves criminals from urban areas pressurising vulnerable people and children to transport, store and sell drugs in smaller county towns.
It said the name comes from the phone lines used by dealers to communicate with one another.
Det Ch Insp Gareth Davies from BTP said: "Nationally, we have identified around 476 individuals associated with 'county lines' gangs using trains, with 131 of those being frequent train travellers."
He said that, although Shrewsbury accounts for a "fraction of the national picture", the force is using "specialist behavioural detection officers" to spot those involved and try to keep drugs from the streets.
No arrests were made during the patrol at the station on Friday, but the force said it regularly conducts similar operations, acting on intelligence and need, at stations across the UK.