Hundreds attend veteran Royal Marine's funeral after appeal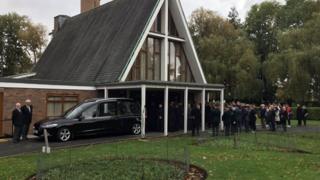 More than 200 people have turned out to honour a veteran Royal Marine at his funeral after an appeal for mourners was shared thousands of times online.
Leach & Son funeral directors said David McLaren Kerr, who had been living in mid Wales, had no living family.
Veterans and students were among those who came to pay their respects in Shrewsbury on Tuesday afternoon.
People who attended said Mr McLaren Kerr, who died aged 90 on 7 September, "deserves a good send off".
Mr McLaren Kerr, who had been living at a care home in Newtown, Powys, died at the Royal Shrewsbury Hospital.
Richard Parkes, from the Newtown funeral directors, said he had expected only one or two people to attend the funeral and had approached the local Royal British Legion branch to ask if it could help honour his military past.
But the plea was shared thousands of times on social media.
More than 200 people, including serving Royal Marines, attended the funeral at Emstrey Crematorium, meaning some had to stand outside to listen to the service.
Stanley Wilkinson, from the Buglers Association of The Light Division & Rifles, said he decided to come after seeing the post on social media.
"He is ex-service, they have done a lot for us over the years and he deserves a good send off," he added.
Charlotte Taylor Jones, who went to the service with about 40 other students from Shrewsbury College, said: "We all mutually agreed we should go and pay our respects.
"It shows there is no divide between the older and younger generation and also that we do respect those who fought for us before we were born."
Kevin Dempsey, chairman of the Shrewsbury branch of the Royal British Legion, said they were pleased with how the message had spread.
"The chapel itself was full," he said.
"It was very moving, and very emotional."