Shropshire hospital baby death: Midwives accused of misconduct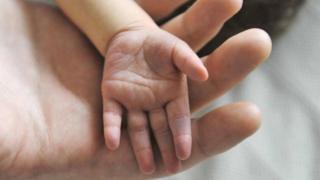 Three midwives at a trust in a maternity care probe have been accused of misconduct after a baby died.
The staff from Shrewsbury and Telford Hospitals NHS Trust (SaTH) face a disciplinary panel over the care of a mother and her son, who died in 2015.
Laura Jones, Hayley Lacey and Kerry Davies have been accused of failing to properly monitor the baby's heart rate.
They admitted and denied some of the charges at a Nursing and Midwifery Council (NMC) hearing earlier.
The midwives are not accused of causing the death of the baby, only Ms Davies' actions are said to have led to a loss of a chance of survival.
The child, referred to as Baby K, died four days after being born at Telford's Princess Royal Hospital on 19 August 2015, the hearing in London was told.
The hearing is in connection with a review of maternity care at SaTH ordered by the Health Secretary in 2017 following a series of baby deaths.
It was announced in October that the maternity investigation had expanded after more families came forward with concerns over care.
Ms Davies is accused of not making an emergency call to help transport the mother, known as Patient A, to a consultant-led unit and not carrying out her own checks on the baby.
She admits moving the mother herself in a wheelchair, and not performing a check on the baby's heart rate, but denies the NMC claims it reduced the baby's chance of survival and denies it amounts to misconduct.
The panel was told Ms Jones and Ms Lacey were the first to look after the mother.
They deny they were dishonest in recording both the baby's heart rate before it was born and the mother's pulse when they knew they had not been taken.
The NMC also said more checks should have been carried out on Patient A and, at times, it was unclear who was looking after her.
The pair deny not communicating to make sure she was continuously cared for, but admit some other charges.
During the hearing, Patient A, said: "I feel let down. I feel if the care had been better, perhaps (Baby K) would still be with us today."
The other charges they face:
Ms Lacey
Denies failure to communicate with another midwife to ensure continuous care was provided to Patient A
Denies dishonesty in recording the foetal heart rate and maternal pulse
Denies not carrying out and or recording checks on the foetal heart rate at two times
Ms Jones
Denies failing to ensure continuous care was provided to Patient A
Denies dishonesty in recording the foetal heart rate and maternal pulse
Denies some recordings of the babies heart rate
Denies recording the mother's pulse at one time
Ms Davies
Accepts failing to making the emergency call to move the mother to the consultant led-unit
Accepts failing to perform a test on the baby's heart rate
But denies it led to a loss of chance of survival of Baby K
Also denies her actions amount to misconduct
The hearing continues.