Underground tunnel cause of Church Aston road collapse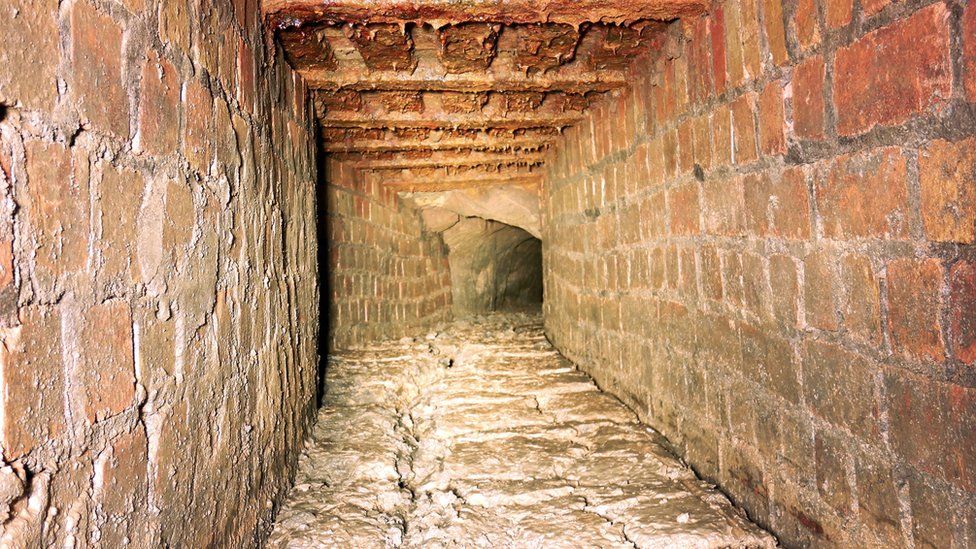 A 19th Century underground culvert, thought to have been commissioned by a duke, has been discovered after part of a road collapsed in a village.
It is estimated the culvert, which could date back to the 1800s, stretches over 1.5 miles (2.4km) and was once used to supply water for farming.
Engineers are now investigating the best solution to repair it.
Pictures released by Telford and Wrekin Council show the scale of the tunnel, which is believed to have been commissioned by the Duke of Sutherland in the 1820s or 1830s.
It is thought to have been used to supply water to Longford Pools for use in large scale farming activities as a direct result of the draining of Kynnersley marshes, the authority said.
However, local historian David Adams has said it was more likely to have been built by another wealthy family to supply water to an ornamental pool.
It was found after a section of road collapsed at the junction of Greenvale and Dark Lane in Church Aston, and has closed the road to traffic since the start of October.
A well-type structure was uncovered underneath the carriageway at the junction, which sits on top of an old brick-built culvert that connects to a sandstone tunnel.
Local councillor Andrew Eade said it quickly became apparent it "wasn't just a pothole".
"It is quite worrying to think what might have happened if there had been a total collapse there," he said.
"I don't think anybody quite envisaged the full extent of the issues they were going to face."
Specialist repairs will now take place to repair the culvert.
Related Internet Links
The BBC is not responsible for the content of external sites.