Midwife struck off for misconduct over baby deaths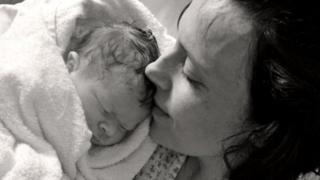 A midwife has been struck off for misconduct after two babies died.
Heather Lort did not provide "effective resuscitation" to newborn Kate Stanton-Davies in 2009 and her actions led to another baby being stillborn in 2013.
As a result, a Nursing and Midwifery Council (NMC) panel concluded her fitness to practise was impaired.
Ms Lort, who had worked for Shrewsbury and Telford Hospitals Trust (SaTH), has not admitted the claims. She has 28 days to appeal against the ruling.
At the hearing in London, the NMC said it believed the only way to prevent the risk of further misconduct and maintain confidence in midwives was to remove her from the nursing register.
In the case proven against Ms Lort, the NMC found she did not make sure Kate's vital signs were monitored after she was noted to be "grunting".
The infant was born at Shropshire's Ludlow Community Hospital on 1 March 2009 and died six hours later.
The NMC said Ms Lort made "significant record keeping errors" and "failed to recognise that Kate's health was compromised at birth".
She was said to have acted "belatedly", meaning a "loss of chance of survival" for the baby.
Ms Lort was working for Shrewsbury and Telford Hospitals Trust (SaTH) when the baby died, but was not an employee at the time of proceedings.
Rhiannon Davies, Kate's mother, said: "She placed her in a cold cot, abandoned her in a side room, didn't resuscitate her.
"Heather Lort left the room crying because she was upset, never mind the fact my baby was dying."
The panel also found Ms Lort guilty of misconduct in the case of another unnamed baby who died in 2013.
She could not find the baby's heart rate, but instead of letting a doctor know, she told the expectant mother to "go for a walk and have a drink".
The woman gave birth the next day, but her baby was stillborn.
The NMC said Ms Lort did not learn from her errors and concluded her care "fell seriously below standards expected of a registered midwife".
A suspension "would not be appropriate" as she had "shown no meaningful remorse", despite "years to reflect" on what happened, the NMC said.
SaTH is already subject to an inquiry into its maternity services, with the review widened to focus on the care received by 215 families.
The trust is also in special measures amid concerns over safety of maternity and emergency services at its acute hospitals, Royal Shrewsbury and Telford's Princess Royal.