Princess Royal Hospital's A&E overnight closure plan scrapped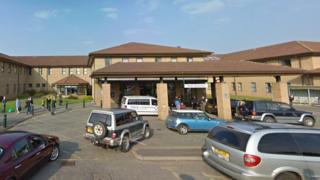 The planned closure of a hospital's A&E department has been called off after new staff were secured.
Overnight A&E services at Princess Royal Hospital in Telford were due to be suspended over "safety fears".
However, Shrewsbury and Telford Hospital NHS Trust (SaTH) has announced it has attracted enough new staff for the department to stay open 24/7.
The development was hailed as "fantastic news" by the trust's chief executive Simon Wright.
SaTH said it had secured enough middle grade doctors and nurses needed to remain open overnight, and there would be seven substantive A&E consultants working at its two sites by February.
In March the Government announced Shropshire would receive £312m, as part of Future Fit, to transform local hospital services.
Mr Wright said: "We had said all along that we didn't want to close either of our A&Es overnight, but that we simply couldn't keep both open because of the staff shortages in our Emergency Departments.
"The news of the £312m investment for the reconfiguration of our two hospitals has allowed us to recruit more consultants, including in A&E."
Ambulance divert plan
In September the Trust said it would have to temporarily close the Princess Royal Hospital's A&E overnight for six months after NHS managers said they could not continue to rely on the "goodwill of staff" to keep patients safe.
This would have seen ambulances for the hospital diverted to neighbouring trusts.
It came after the Care Quality Commission took urgent enforcement action when an inspection highlighted safety fears.
Consultant Kevin Eardley, the medical director for unscheduled care, added: "It is great news that we have been successful in securing more doctors to keep both of our A&E departments open 24/7 and therefore prevent the need to inconvenience patients and relatives by diverting them to alternative providers.
"I hope this can be a springboard to further recruitment and building a more sustainable future."