How a newspaper column 'started' 50-year-old Telford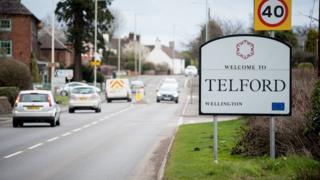 In a nation of centuries' tradition, it is something of a surprise to think of England with towns little more than babies. On Thursday, Telford in Shropshire reaches the tender age of 50 - barely old enough to remember the moon landing. But just how do you start a town from scratch?
This is the story of a grand idea. It's about putting something where there was - in a manner of speaking - nothing at all. And it's about a couple of newspaper inches that helped the unnoticed be seen.
It begins in post-war Dawley, Shropshire, which was heading for a new spin on the old line "this town ain't big enough for the both of us".
Dawley had a history of mining, but industry there was declining and the land it had once taken over went unused. According to A History of the County of Shropshire, it left a residual population, with resources too inadequate to attract new blood.
In short, Dawley was too big for the few people it had. By contrast, Birmingham, some 40 miles away, had more people than it knew what to do with. The city needed new space to house its overspill.
Step forward a 1950s reporter who had the ear of a local councillor.
In 1955, George Chetwood was chairman of Dawley Urban District Council and his home in Portley Road had an "open door" to politicians and journalists alike.
According to research by his grandson Mark Chetwood, the reporters included a newspaper's Dawley correspondent, Alfred "Scoop" Bowdler.
He thinks their chats inspired a PR exercise which helped launched a town from scratch - the sort of outcome that the most viral of Tweets could barely dream of.
Mr Chetwood said there were already discussions between his grandfather and other councillors on using land around Dawley for housing when Scoop, in the Birmingham Gazette, floated the idea it could solve the city's problems.
"Scoop picked it up," he said, "and it snowballed from there - as they say, from little acorns, oak trees grow."
Scoop's report didn't shy from editorialising and stated: "There seems little doubt with efficient organisation, good planning and some financial assistance, these once famous industrial areas of Shropshire could be brought back again to prosperity and at the same time give great help in solving the overspill problem of Birmingham."
It went on: "Within 30 miles of Birmingham, first-class industrial sites are going for the asking, with an abundance of land for house building of little agricultural value."
George Chetwood and authority surveyor Charles Savage were in favour of approaching their Birmingham counterparts with the idea, and on the very day the article was published, the Dawley man sent a letter to the city's mayor, offering his services.
The message led to a link between the authorities, and while not yet an oak tree, Telford was on the way to becoming a healthy sapling, although the name - in honour of engineer Thomas Telford - was some years off.
By 1962, Minister of Housing Dr Charles Hill had confirmed a new Midlands town would be built - the not so imaginatively titled Dawley New Town. Chetwood marked it with remarks in a press release, saying only under the plan could his "wasteland" be used to help "thousands" of Brummies "settle in" to "better homes".
The plan was then guided by the Dawley New Town Development Corporation, and financed by loans from the exchequer.
It didn't happen in a vacuum, though, and was part of a wider government programme to address the overcrowding which followed Britain's rapid, 19th Century shift from rural to urban. The 1946 New Towns Act pretty much did what it said on the tin.
Buoyed by later legislation, and according to Parliamentary records of 1968, the Dawley plan would benefit from a national pot swelling to £800m; funds from which towns including Milton Keynes were born.
The same records imagined that the new town - now known as Telford - would take on 50,000 Brummies "on top of the 50,000 for whom the new town was originally planned".
The first homes were built on Sutton Hill in 1967, beginning, roughly, a 10-year programme of works that, according to local history group Dawley Heritage, addressed thousands of acres of derelict land scarred by industry.
The official designation of the new town came on 29 November 1968 and also meant the existing Dawley was absorbed. While Dawley's name and identity remains today, it's more of a borough town; a satellite around the Telford-sized sun which today has 169,000 people across 73,000 homes.
George Chetwood died in 1974, but his legacy lives on in the area, with part of an estate in Malinslee, his council ward, named after him.
At its opening, he was described as "Father of the New Town".
His grandson said: "If he could see Telford now, I know for a fact, he would have been absolutely over the moon.
"He would have thought it was absolutely brilliant, I don't think he could have taken it all in.
"As they say, everything has to start somewhere and Telford was started at Portley Road."
Follow BBC West Midlands on Facebook, on Twitter, and sign up for local news updates direct to your phone.