Inmates' protein shake egg shell waste clogs drains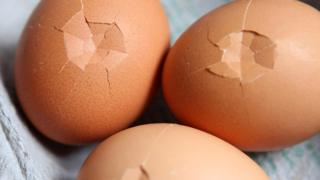 Inmates using eggs to make protein shakes in their cells blocked the prison's drains by flushing away the broken shells.
Severn Trent noticed "something peculiar was going on" with excess solid waste at a treatment works near HMP Stoke Heath, in Shropshire.
Waste monitoring firm ECAS investigated and found some inmates were eating in cells and flushing meals down toilets.
Severn Trent said prison staff now collect and remove all food waste.
Latest news from the West Midlands
The Prison Service has not commented.
Crushed egg shells and other food waste had been clogging up equipment at the sewage treatment works, meaning extra cleaning was having to be done.
You might also be interested in:
Boa constrictor on loose after escape
Car gets stuck driving over footbridge
How a newspaper column 'started a town'
ECAS worker Luke Mosley visited the prison, which has 700 inmates, to find out how food waste was disposed of.
"One thing we discovered was that some inmates were allowed to eat in their cells and were flushing their meals down the toilets - which of course then entered the sewer system, potentially choking the network.
"And as for the egg shells, well they came from the eggs used in protein shakes made by the inmates."
The use of food waste disposers at the jail has been abolished, reducing the temptation to put excess materials down the sinks and drains, Severn Trent added.