Covid-19: Parents in Shropshire die within days of each other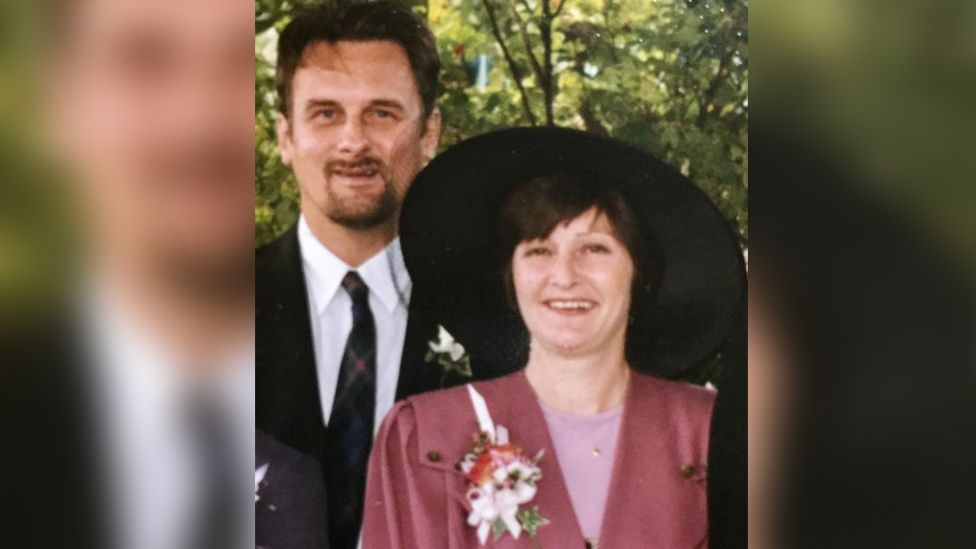 A woman whose parents died with Covid-19 within days of each other is urging people to take the virus seriously.
Susan Docherty 62, and her husband John, 65, died at the Royal Shrewsbury Hospital and Princess Royal Hospital in Telford respectively in November 2020.
The couple, from Shrewsbury, were married for 44 years. Their daughter Katie Tong said they had followed all measures to keep them safe.
"It can strike at anytime and turn your life upside down," she said.
Mrs Docherty had suffered with Chronic Obstructive Pulmonary Disease (COPD) and retired taxi driver Mr Docherty had asthma.
Both moved to Shrewsbury from Scotland 17 years ago.
At first their daughter, who also lives in the town, thought they had a common cold.
"They were sneezing a lot - I never once thought it could be Covid-19, because we were all so careful," she said.
But their conditions deteriorated. Mrs Docherty was taken into hospital and her husband was admitted two days later.
At first Mrs Docherty showed signs of improvement, but her condition later worsened.
On 13 November Mrs Tong was called by the hospital and told her mother had taken a turn for the worse and she might not make it past the next couple of hours.
"It's the phone call you never want to hear as a daughter," she said.
"She said she loved us before she passed away."
Mrs Tong was allowed to be in hospital with her mother for her final hours, but had to say goodbye to her father via a video call on 22 November.
"I am heartbroken because he died without his family and loved ones around him," she said.
"I have lost two people I loved dearly due to Covid-19. Covid-19 killed them.
"Please take this seriously. I've lost my mum and dad, but this could happen to anyone."
Related Internet Links
The BBC is not responsible for the content of external sites.