Telford boy's 'worry pets' for mental health awareness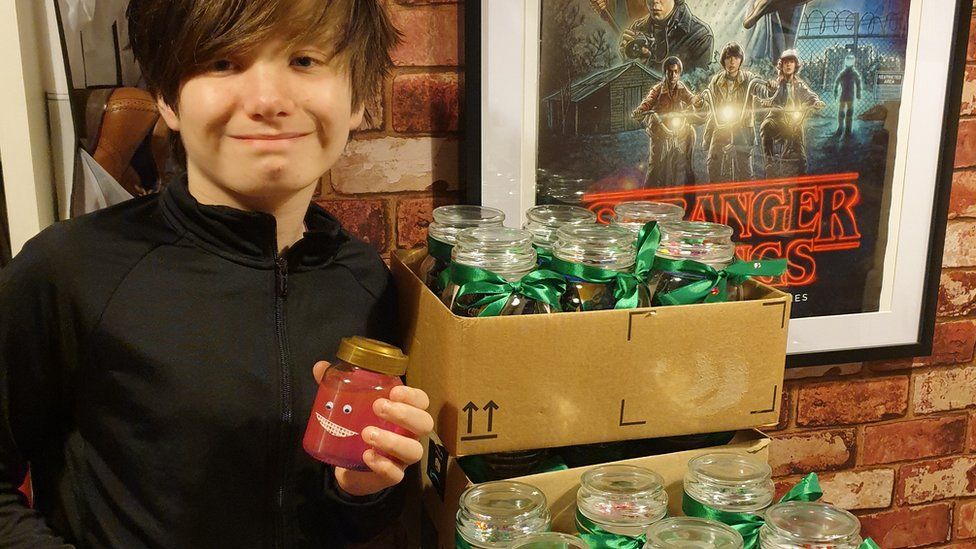 A schoolboy has been hiding "worry pets" around a town in Shropshire as a way to support people's mental health.
Ollie, from Muxton, in Telford, has been hiding the pompom pets around the area for people to find and hold when they feel anxious.
The 11-year-old has struggled with a number of health problems, undergoing multiple surgeries.
Mum Krista said his experiences meant he understood what it was like for people to struggle with mental health.
Ollie, who has an undiagnosed genetic condition, was born with kidney problems which led to him having a kidney removed, but has also undergone heart and spinal surgery.
"He knows what it is like to feel anxious because he is constantly going into hospital," Krista said.
"All of his health problems, you can't see them... in the same way as mental health is often hidden.
"He has been through loads of stuff, and he is such an inspiration because he is always so kind and thoughtful to others."
Last year, she said, he had learned how to make pompoms in an after-school club.
"He said 'Wouldn't it be good if I could make pompoms for everyone?' and it grew from that," Krista added.
A note, left with the pompoms, which he has called Eillos, or Ollie backwards, encourages the finder to give the pompom a "squeeze" when they feel worried.
He has also been creating goodie bags or jars for people who are struggling with their mental health, and donated them to the charity TACT which provides supported housing.
Krista said it had been "lovely" to see people's responses.
"We have had such a positive connection with the community," she said.
Related Internet Links
The BBC is not responsible for the content of external sites.