Sunset photos from Shropshire beauty spot 'took years of planning'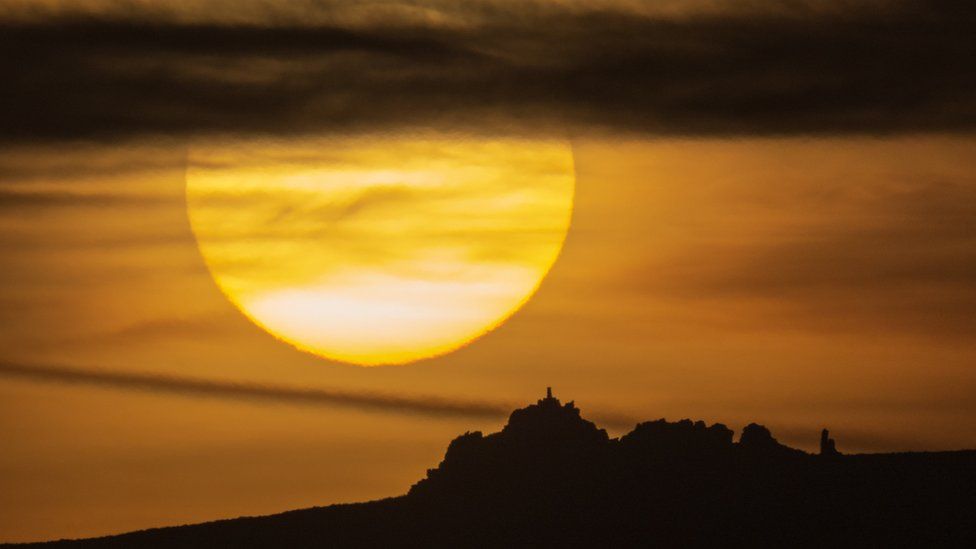 A photographer spent "years" preparing to take pictures of the sun setting behind a Shropshire landmark.
Andrew Fusek Peters, who lives near Bishop's Castle, captured the sun going down behind Manstone Rock, the highest tor on the Stiperstones ridge.
Capturing the scene on Tuesday meant being in exactly the right spot at the right time of year, he said.
Despite the "challenging" conditions, Mr Fusek Peters said he was really pleased with the photographs.
The pandemic means he has spent the past year exploring the areas surrounding his home in south Shropshire.
"I've lived in Shropshire 30 years and this year I have discovered so many new vistas and landscapes and wildlife," he said.
But the process of setting up his pictures of the sunset had taken years of planning, he said, to ensure he was in the "right location, at the right time, at the right height" with the correct equipment.
"I was in a field of sheep, going down behind a rock, but I can't think of anywhere I would rather have been in the world at that moment," he said.
His carefully laid set-up, however, was almost foiled.
"You have to have literally perfect weather conditions," he said.
"I saw the band of cloud that you can see in the top of the picture coming in and thought 'what's the point?' but luckily it went just behind."
He said sharing the pictures helped to show the "beautiful world" amid the pandemic.
All photos subject to copyright.
Related Internet Links
The BBC is not responsible for the content of external sites.