Dalian Atkinson: Murder-accused PC 'was absolutely petrified'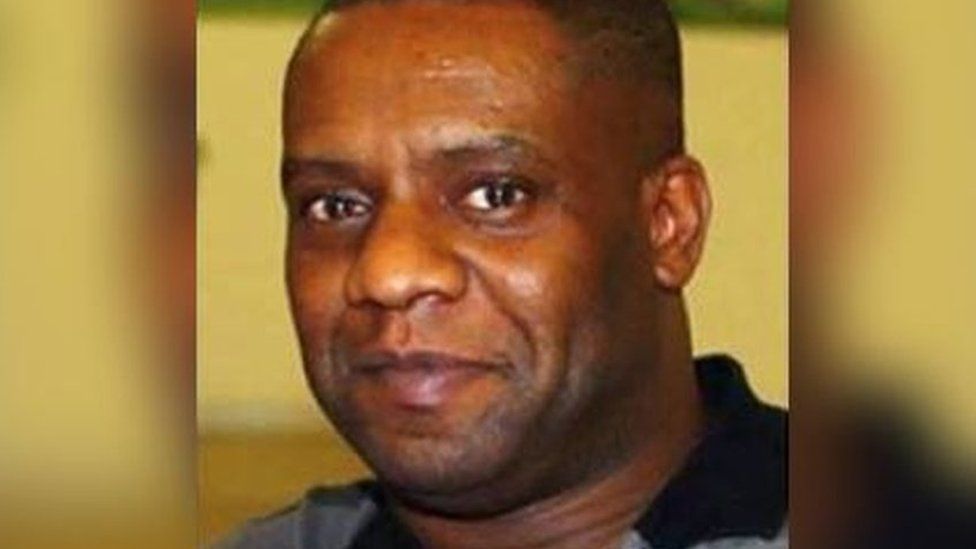 A police officer accused of murdering a former footballer said he was "absolutely petrified" when he used his Taser on him.
In an interview from the time, PC Benjamin Monk said ex-Villa star Dalian Atkinson was "absolutely livid" when he and a colleague arrived at the scene.
He said Mr Atkinson told him "I'm taking you to the gates of hell" and he believed this was his intention.
PC Monk, 42, is on trial for Mr Atkinson's murder in Telford.
Mr Atkinson, a former Aston Villa star who also played for Ipswich Town and Sheffield Wednesday, died shortly after the officers responded to calls to his father's house in Meadow Close at about 01:30 BST on 15 August, 2016.
The court previously heard Mr Atkinson had been acting strangely, shouting in the street and claiming to be the Messiah.
In his police interviews, summarised in court, PC Monk recounted how Mr Atkinson's "face was one of utter rage" when he opened the door.
"It was surreal, he'd got the biggest wildest eyes I'd ever seen, they were protruding from his head," he said. "That was the anger simply coming from this man's face".
He told officers Mr Atkinson, who he described as "quite simply huge", was pacing and he decided to deploy his Taser because he knew he could not outrun or overpower him.
"The bloke was towering above me, absolutely towering. His shoulders literally filled the frame of the door," he said.
The first discharge failed and PC Monk said Mr Atkinson then started running at him and his colleague PC Mary Ellen Bettley-Smith, 31.
"I genuinely thought we had had it," he said.
He continued his account, saying Mr Atkinson then turned back towards the house, kicking and punching the front door, which was when PC Monk loaded a second Taser cartridge.
When that too failed, PC Monk said Mr Atkinson told him "I'm taking you to the gates of hell" and he believed this was his intention.
When Mr Atkinson fell to the floor after PC Monk successfully discharged a third Taser cartridge, the officer said he felt "relief".
The trial heard PC Monk discharged the Taser for 33 seconds - six times longer than standard. In his interviews, he said he did not know when he had taken his finger off the trigger and "felt his brain had stopped working".
The prosecution's case is that the force PC Monk deployed, including kicking Mr Atkinson's head forcefully, was excessive and went beyond self defence.
PC Bettley-Smith, is accused of using a police baton unlawfully and striking Mr Atkinson whilst he was incapacitated.
PC Monk denies murder as well as an alternative charge of manslaughter. PC Bettley-Smith denies assault occasioning actual bodily harm.
Related Internet Links
The BBC is not responsible for the content of external sites.