Dalian Atkinson: PC's kicks 'could have left footballer unconscious'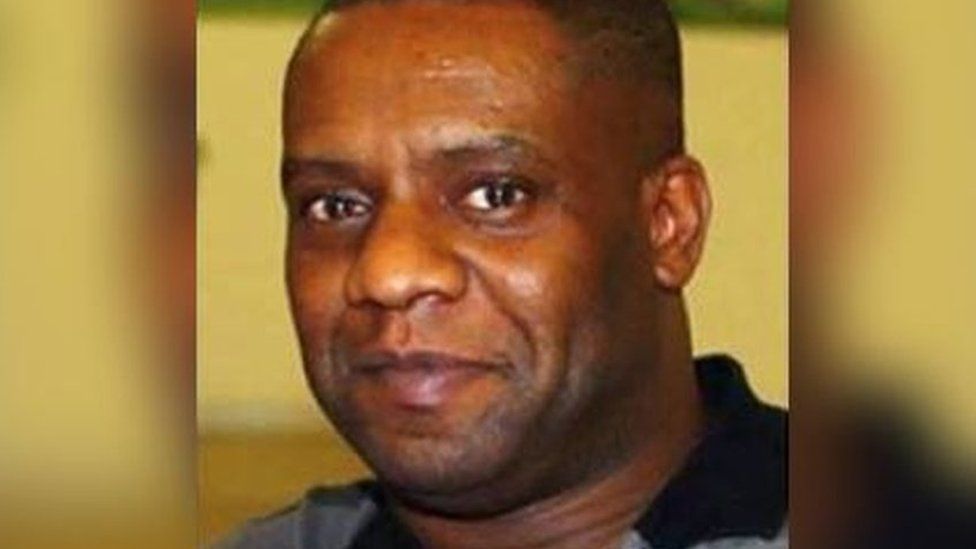 A PC's kicks to an ex-footballer's head "potentially put him in a very dangerous situation," a court heard.
Benjamin Monk, 42, is on trial for the murder of Aston Villa star Dalian Atkinson, 48, in Shropshire, in 2016.
That he kicked Mr Atkinson's head is not in dispute, however an expert witness said the "crux" of the case was whether that left him unconscious.
PC Monk denies murder and his co-accused colleague PC Mary Ellen Bettley-Smith, 31, denies assault.
During the fourth week of their trial at Birmingham Crown Court, forensic pathologist Dr Olaf Bierdrzycki showed jurors images of footwear marks found on Mr Atkinson's head.
The West Mercia Police officers responded to a callout at Mr Atkinson's father's house in Meadow Close, Telford, at about 01:30 BST on 15 August 2016.
Twice the weapon was ineffective but on the third discharge Mr Atkinson, who also played for Ipswich Town and Sheffield Wednesday, fell to the ground.
While he was down, PC Monk kicked his head while PC Bettley-Smith allegedly struck him with her baton, the court was told.
Dr Bierdrzycki told jurors he had used polarised light to reveal a "patterned injury" on each side of Mr Atkinson's forehead.
Dr Bierdrzycki said it was "reasonable to say" the kicks could have knocked Mr Atkinson unconscious and, if they did, "they potentially put him in a very dangerous situation".
Mr Atkinson had a number of underlying health conditions which meant he could have died at any time, however the pathologist recorded his death happened soon after being Tasered and sustaining blunt force trauma.
"Something caused him to be unconscious and that's the crux of the case," he said.
PC Monk also denies an alternative charge of manslaughter, while PC Bettley-Smith denies assault occasioning actual bodily harm.
Related Internet Links
The BBC is not responsible for the content of external sites.