Judith Fox death: Daughter told police 'I killed mum'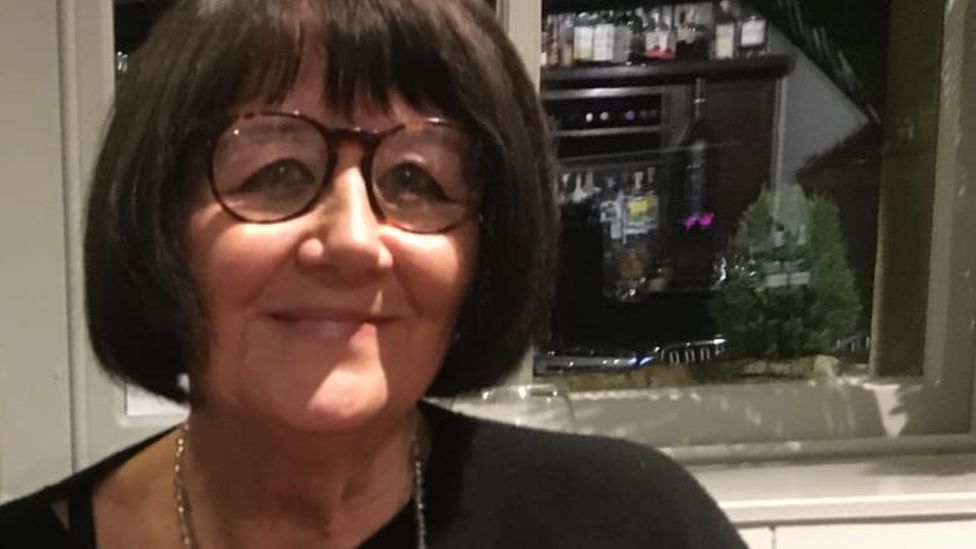 A woman accused of murdering her mother told police she had killed her when officers visited for a welfare check, a court heard.
Lucy Fox, 39, has been deemed unfit to stand trial and is at the centre of a trial-of-facts hearing.
She said to police her mother was "part of the Telford paedophile ring and I killed her", the proceedings at Stafford Crown Court were told.
Judith Fox was last seen at her home in Shifnal, Shropshire, in June 2020.
The remains of the retired nurse, 65, were found in the county a month later.
In court, jurors were shown body-worn camera footage from West Mercia Police officers. They visited Mrs Fox's home at about 03:00 BST on 14 June 2020 after concerns for her welfare were raised by her son, Nick.
The footage revealed that on answering the door, Ms Fox, of Bernards Hill, Bridgnorth, Shropshire, said of her mother: "She's dead, she had an accident, she died."
Ms Fox, whom an arresting officer told jurors was in a confused state, continued: "She's part of the Telford paedophile ring so I killed her.
"I tried to kill my brother tonight because he's also part of the Telford paedophile ring."
PC Sarah Dufton, told the court Ms Fox appeared to be becoming more confused during the conversation, and told her: "I don't understand what's going on".
Earlier that morning, at about 01:30 BST, a fire had broken out at her brother's home in Apley Park, near Bridgnorth.
Ms Fox is also charged with arson.
CCTV footage showed a dark car resembling Mrs Fox's black Ford Focus travelling to the scene of the blaze, with a person travelling back and forth across a grassed area carrying a bag.
The court also heard evidence following analysis of Ms Fox's phone that revealed how two months earlier she had ordered hunting knives online which had been delivered to her mother's house.
Mrs Fox's remains were found in Coalport, Ironbridge, on 10 July 2020.
Jurors previously heard how Mrs Fox's decision to sell her home on Haughton Drive, where she had lived for 30 years, had created tension in the family.
Ms Fox has not entered a plea. The trial continues.
Related Internet Links
The BBC is not responsible for the content of external sites.