Dame Stephanie Shirley: Oswestry blue plaque unveiled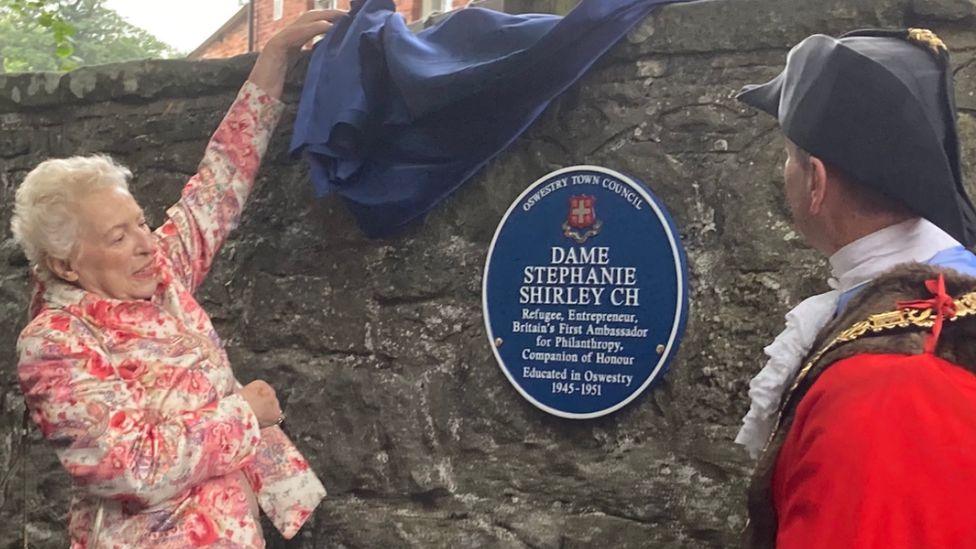 A blue plaque has been unveiled to mark a town's links to entrepreneur and philanthropist Dame Stephanie Shirley.
The 87-year-old went to boarding school in Oswestry, Shropshire, and credits the area with helping her learn mathematics at a time when the subject was not on offer to girls.
She went on to become a global tech entrepreneur, championing women in the field, and giving away £70m to charity.
She said Oswestry gave her "six years of peace" when she "really needed it".
The plaque marks her local education between the years 1945 and 1951 after fleeing Nazi Europe.
It was unveiled in town on The Broadwalk, next to St Oswald's Church, on Thursday morning, with a town crier proclaiming the event.
Dame Stephanie came to England from Austria in 1939 as a Jewish refugee.
She told BBC Radio Shropshire: "My mother came out in August literally a few days before the outbreak of war, and we were both in the West Midlands for some time and then she managed to find a place in Oswestry and I think it was because [of] another refugee family, who sort of said 'look, there's jobs here - it's a nice border town and there doesn't seem to be any anti-Semitism'."
She added: "Not only did I grow up there, but I calmed down there.
"I became much more comfortable in my own skin, so I have Oswestry to thank for a lot of things and I feel quite sentimental about it."
She said she really had to "fight" to be taught mathematics and was eventually offered lessons at a boys school, which she said was "extremely embarrassing".
"But that," she said, "has been so important to my life... because I went into the computer world and you needed mathematics in the early days, so had Oswestry not supported this shy, young girl who wanted to study this weird science of mathematics, my life would have been very, very different."
Dame Stephanie is sometimes known as Steve - a call-back to how she would occasionally refer to herself in business correspondence years ago.
She explained that the "double feminine of Stephanie Shirley" did not often receive replies, but when writing as Steve Shirley, things "began to take off".
She said of her business plans back then: "I was going to get women into these corporate environments, I was going to provide work opportunities to women who at that time were really second-class citizens.
"They couldn't work on the Stock Exchange, couldn't drive a bus, you couldn't fly an aeroplane and I couldn't even open the company bank account without my husband's permission.
"So it was very important to me that it was a social business. I measured its performance not by the profit or loss it made but by how many women I was employing, how many single-parent women, how many disabled women. It was the beginning really of me growing into some sort of humanitarian."
Speaking after the plaque's unveiling, she said: "It's slightly embarrassing. I really can't quite believe it, I think it's very generous of the town council actually too."
Related Internet Links
The BBC is not responsible for the content of external sites.