Telford man becomes volunteer lifesaver after bystanders' CPR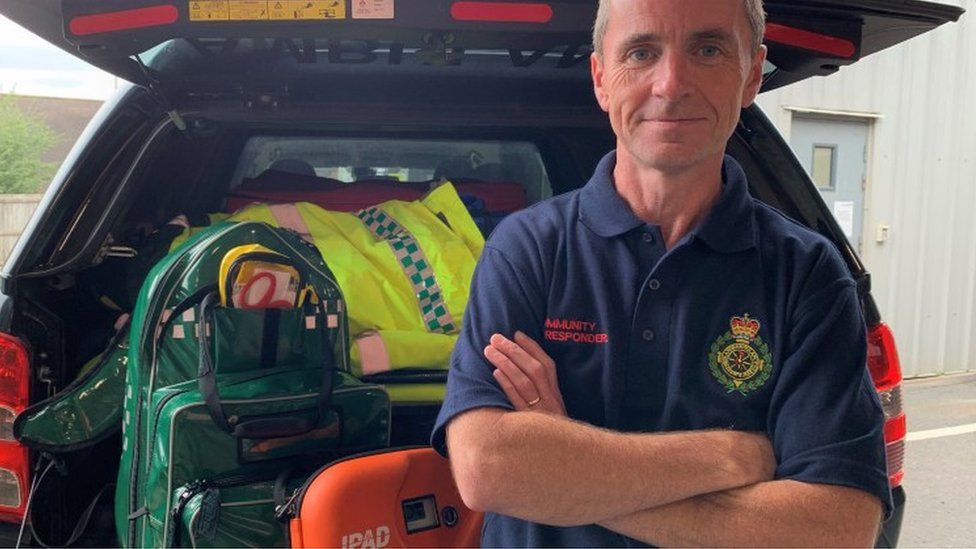 A man who had his life saved by two bystanders when he had a cardiac arrest while running has been inspired to become a community first responder.
Peter Corr, from Telford, qualified as the volunteer lifesaver two years after he collapsed while out running.
Two passersby went to help him and started CPR before ambulance crews arrived.
Mr Corr said the pair "feel like guardian angels" who kept him alive and inspired him to help others in need.
"If Melissa and Nigel has not stopped to perform CPR, I would not be here," he said.
"My last memory is running past our local shops and then the next memory I have is waking up in the back of the ambulance."
West Midlands Ambulance Service (WMAS) said their paramedics managed to restart Mr Corr's heart after several defibrillator shocks.
He was taken to hospital and had surgery to have a stent fitted, a tube used to keep arteries open.
Mr Corr, who works as a clinical psychologist with children, said he knows he only survived because of the two bystanders.
"From my experience, I was aware that I made the recovery that I did from the cardiac arrest only because the bystanders got in so quickly and performed CPR," he said.
He applied to be a voluntary community first responder (CFR), underwent a five-week training course in June and qualified a few weeks ago.
CFR's are volunteers trained to respond to emergency 999 calls in their community before an ambulance crew arrives, WMAS said.
On his first call while shadowing an established CFR, Mr Corr responded to a woman choking and found she was being given CPR by passersby when they arrived.
"Whilst it was nerve-wracking as my first 999 call not knowing what to expect, I remember it being really positive to see people performing CPR", he said.
Related Internet Links
The BBC is not responsible for the content of external sites.