Gobowen Roman coin hoard declared as treasure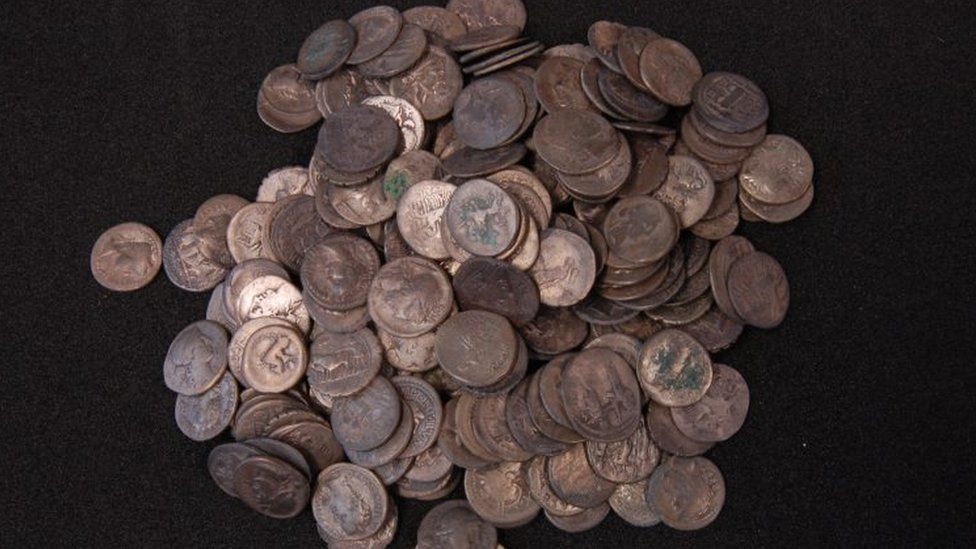 A hoard of 337 silver Roman coins, discovered in a field, have been declared as treasure.
The denarii, believed to have been placed in the ground in about AD 69 to 70, were found in Gobowen, Shropshire.
Initially 64 coins were found close together before a team was sent out and the hoard recovered.
Hoards of coins are "amazingly rare" in the county, an expert said. It is thought they are evidence of military activity in the area.
At an inquest on Tuesday, coroner John Ellery found the items to be treasure.
The coins were found during an event organised by the Mold Historical Search Society with Darren Booth and fellow club members finding the first coins. The find was reported to the Shropshire Museums and the Portable Antiquities Scheme who sent a team to recover the hoard.
The archaeologists found corroded and fused silver coins, it said, which were sent to the British Museum.
While some of the coins had lost their surfaces due to corrosion, they were otherwise in a reasonable condition, with evidence they had been in a leather pouch.
The Gobowen Hoard will now be valued and made available for Shropshire Museums to save and put on display.
Fay Bailey, head of Shropshire Museums and archives, said it was "important evidence of early Roman military activity in the area".
Peter Reavill, from the British Museum's Portable Antiquities Scheme, which records archaeological objects found by the public, said: "Hoards of coins are what everyone thinks of as treasure but are amazingly rare from Shropshire.
"I am hugely grateful to the finder and his metal detecting club for following best practice guidelines of stopping digging and calling for help."
Related Internet Links
The BBC is not responsible for the content of external sites.