Ukrainian children face school place delays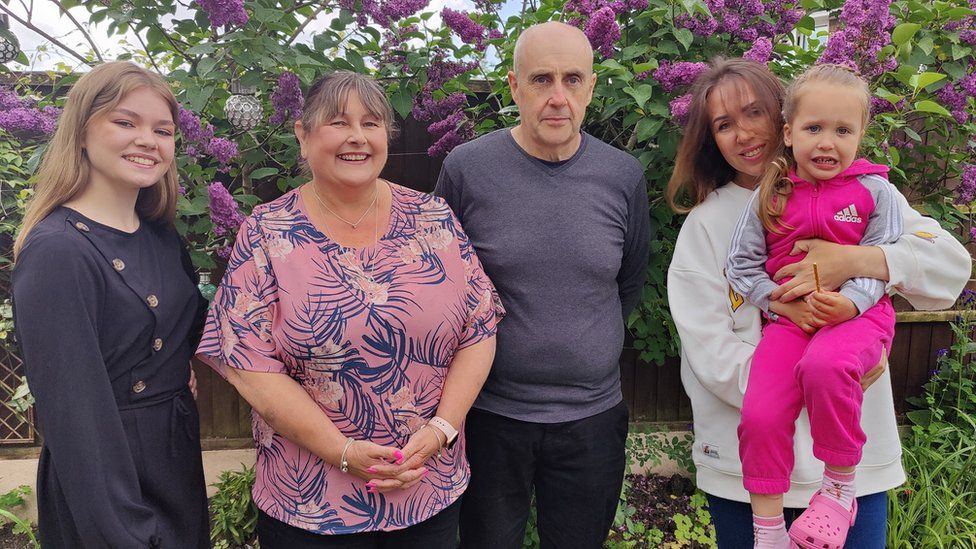 A family sponsoring a Ukrainian teenager said they had endured a frustrating five-week wait to find out if she could attend school.
Dave and Pam Rogers, from Telford, welcomed Anastiia, 15, along with her younger sister and mum on 11 April.
After registering for a school place via the council's online system, they said they were met with silence.
Telford and Wrekin Council said it was working closely with schools to match children to the right places.
Mr Rogers said he was bounced between the council and schools he applied to, which led to a lot of confusion.
"We filled in the portal as requested, where you select schools you would like. We were told we'd have an answer back by a fortnight and two weeks waiting we'd not had an answer from anybody.
"I tried to contact the local council… and we're still waiting for replies.
"We then contacted the schools and they turned round and said it was up to the council, but when we got in touch they said it was up to head teachers. I started ringing local schools again."
After waiting weeks for a response Mr Rogers said he was able to gain Anastiia a school place following half-term, but only after taking matters in to his own hands and ringing several local schools.
Keen to get back to school and make new friends, the 15-year-old said she was looking forward to meeting "good people who can help me and spend time with me".
"I hope to go to school and improve my English," she added.
Mr Rogers said trying to find a school place, as well as registering for a National Insurance Number and Universal Credit, "needs to be more coordinated" to help sponsors and Ukrainian nationals navigate the system more efficiently.
"People need to be mindful - these [Ukrainian] people want to go to school - want to go to work and some of the questions and hoops they're having to jump through," he said.
A spokeswoman for Telford and Wrekin Council said: "Schools across the borough have welcomed Ukrainian children with open arms and we're working as quickly as we can, in line with the various school admissions policies, to arrange the right school places for them.
"On this occasion, the process wasn't as smooth as we'd have liked but we're pleased that the school place is now secure."
Children desperate to socialise
Families have contacted the BBC to share their experiences of trying to enrol children they are sponsoring, with many facing long delays, particularly getting secondary education places.
Polina was welcomed with "open arms" by Hodnet Primary School within days of arriving in Shropshire after her family fled their hometown in central Ukraine.
Simon and Rachael Chapple are sponsoring the nine-year-old, as well as her 15-year-old sister Mariia and mother Olena at their rural home near Blakeley in Shropshire.
"The junior school have been absolutely brilliant," Mrs Chapple said.
"They arrived on the Thursday, had a tour on Friday, given a uniform on Tuesday - and in school for her first day by Wednesday."
She added that Polina, who was initially anxious about joining the school, "came out skipping and dancing" and that the whole community had "embraced her".
Getting a school placement for Mariia, however, proved much harder.
"Mariia, out of everyone, was dying to go to school and socialise, she'd had eight weeks of not socialising with other children," Mrs Chapple said.
After a three-week wait she has now found a place which she said made her "really happy" so she could "level up" her English.
"After school, I want to go abroad and study and it's interesting to learn about something different and learn about the culture," added Mariia.
"A few years ago I never would've expected to have been in England."
About 150 children up to the age of 18 have moved to Shropshire through the Homes for Ukraine scheme, with a further 140 still expected, according to Shropshire Council.
A spokesman for the local authority said it would be "following up on all other child arrivals through our welfare visits, as some children will not be of school age or are continuing their education through remote learning".
Related Internet Links
The BBC is not responsible for the content of external sites.