Fundraising balloon makes 600 mile trip to Norway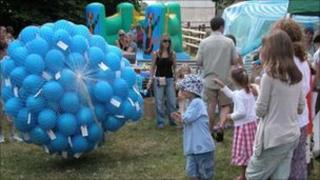 A balloon released at a village fete in North Somerset has travelled more than 600 miles (966km) to Norway.
It was released in Wrington on 3 July by Tanya Filer's 10-year-old daughter Beccy to help raise money to buy equipment for the village's pre-school.
A day later it was spotted by the Oyri family who have a holiday cabin at Farsund on Norway's south coast.
Vibeke Oyri said they spotted the blue balloon falling into the sea and took their boat out to investigate.
She said: "It was a beautiful morning with no breeze. As the children were getting dressed we could see it gently falling down from the sky.
"We could see something attached underneath and our kids were very curious so we decided to take the boat out about 200m from the shore to investigate.
"It was a stroke of luck we got to it quickly otherwise the note would have been unreadable.
"[Our children]Oyvind, 8, Sonja, 6, and Cecilie, 6, were all very surprised it had come from England."
The Oyri family had read the tag which had Beccy's address on it and a message which read: "when you get this please send it back".
Mrs Filer said Beccy was "very excited" when she got the letter from Norway.
She said: "We'd entered the balloon race a while back and hadn't thought anymore about it.
"When the letter arrived I asked her if she'd been writing to a pen friend. When she opened it she said 'mummy my balloon's got to Norway'.
"I said 'don't be so ridiculous' then she showed me the letter.
"Everyone thought the winning balloon had been found in Peterborough but we think this is the winner now."