Spilt milk 'not affected stream' in Somerset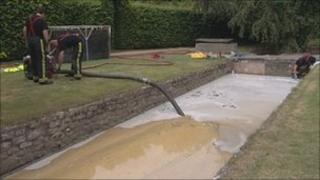 The Environment Agency (EA) has said it is no longer concerned about the danger of pollution in a Somerset stream after a milk tanker spilt its load.
The A37 at Ston Easton was closed for several hours on Sunday after the tanker crashed at 0725 BST.
Firefighters pumped out about 10,000 litres of milk from Wellow Brook, which flows into the River Somer.
The EA spokesman said he thought the crews' fast actions stopped the situation from getting too serious.
The milk, mixed with diesel from the ruptured fuel tank, was stored in containers before being removed.
The EA spokesman said milk can pollute the water because it strips out the oxygen.
He said none of the milk had affected the River Somer. Water running through Midsomer Norton may appear slightly discoloured but tap water was not affected, he added.
The spokesman said fish have been seen swimming in Wellow Brook since the incident.