Wells Tourist Information Centre shuts after 31 years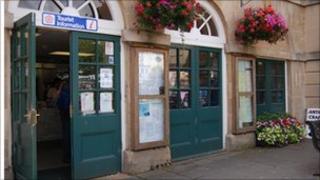 The Tourist Information Centre in Wells is closing after 31 years.
The centre can no longer afford to stay open because it is not making enough money.
Wells Tourism has blamed the closure on today's holidaymakers getting their information from the internet, and a drop in local government funding.
But Mendip Tourism, which oversees TICs in the area, said the centre's management team should have adapted to changes in circumstances.
'Funding slashed'
Ian Burt, chairman of Wells Tourism, said: "We've been generating income for most of the 31 years we've been in operation, but that income has been declining. Most importantly, so has the grant funding.
"Unfortunately we've been struggling for the past five years and now it's time to close.
"The grant funding that's been slashed across the Mendip region has affected all of the TICs. Cheddar TIC closed last year. Frome TIC was forced to be taken over by the town council.
"We have 70,000 visitors every year coming into the TIC. Unfortunately 65,000 of them are coming in for information, not to make a purchase.
"We used to generate a significant income booking accommodation, but most of that is being done online now."
'Didn't react'
Allan Stone, chairman of Mendip Tourism, said: "The writing was on the wall in terms of funding.
"Within Mendip we have five TICs, each of which have been looking at ways of generating more income from the local community and working with local councils, and there's been a shift in funding.
"Much more is now raised from the people using the facilities and those people who benefit from them.
"However in Wells, although they've been part of the same negotiations, they didn't react at all and they haven't altered a thing."
Mr Stone said he was talking to Wells City Council about the possibility of setting up another tourism centre in the near future.