Musgrove Park Hospital false fire alarms cost £60,000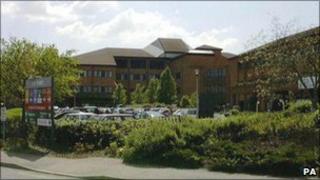 Firefighters have been wrongly called out to Musgrove Park Hospital in Taunton more than 170 times in the past three years, a BBC investigation found.
The incidents have cost Devon and Somerset Fire and Rescue Service more than £60,000.
A hospital spokesman said its network of 4,000 fire alarms would inevitably result in some wrong call-outs.
He added that the Somerset hospital, which treats about 340,000 patients a year, was upgrading its systems.
The information was acquired after a freedom of information request was made to the fire service.
The service estimates that every false alarm costs them £312 to attend.
A hospital spokesman said the trust had an agreement with the fire service that staff would not call them automatically if they knew an alarm was false.
But hospital employees will always call the service if there is any risk at all, the spokesman added.