Weston resort works blamed for drop in summer trade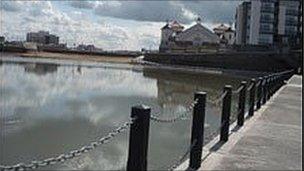 A number of firms in Weston-super-Mare are blaming seafront redevelopment works for a big fall in summer trade.
Hotels have reported a 30% drop in takings and the Sovereign Shopping Centre car park claims it has lost £30,000 in the last six months.
Businesses said tourists were staying away, because the town was a "construction mess".
North Somerset council said the work had to be done and the recession was more to blame for the losses.
Nick Cook, general manager from the Sovereign Shopping Centre, said parking in the 850-space car park was down 22% in July.
He said shoppers were being put off by traffic jams caused by the roadworks.
The town's Grand Pier, which was badly damaged by fire in July 2008, was due to reopen later this month but has been hit by construction delays. A new date has not been set for its reopening.
Elfan Ap Rees, from North Somerset Council, said people needed to remember that £100m was being invested in Weston-super-Mare.
"That includes the Grand Pier which has unfortunately been delayed [in re-opening], which is a great shame," he said.
"There's a new water park that opened in late July, Marine Lake is restored and up and running, there are lots of things for people to do.
"I don't think it's necessarily just the works that are putting people off, I think the recession is generally having an effect, particularly in the retail sector. But the work has to be done."
In addition to the roadworks, the resort has had new sea defences installed. The town is also looking to put the former Tropicana leisure centre on the market for redevelopment.
Related Internet Links
The BBC is not responsible for the content of external sites.