Trees felled in Exmoor and Quantocks as disease spreads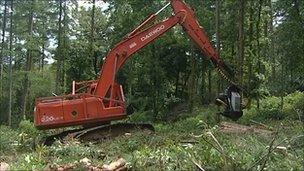 Thousands of trees across Somerset are to be felled after they were found to have been infected by a deadly disease.
Larch trees covering 20 hectares (200,000 sq m) on the Holnicote Estate in Exmoor and 10 hectares (100,000 sq m) on the Quantocks Hills are infected.
Trees in Cornwall, Devon and south Wales have already been felled after catching the airborne disease.
Helicopter surveys are being carried out to see if there are any more trees infected with the Sudden Oak Disease.
Alison Field, regional director for the Forestry Commission in the south west, said they did not know how advanced the spread of the disease was.
"It is a significant threat and we are doing all we can to encourage owners to work with us to try and contain it," she said.
"Felling is the only way to control the disease but our scientists are working on other ways of treating it in the future."
The two affected areas are owned by the National Trust.
Ian Wright from the charity said the felled trees would leave "quite a gap" and that they hope to replant with a mixed forest.
He said: "Luckily so far it's had a relatively minor impact on trust land but unfortunately that's not the case in the south west and south Wales where there has been considerable impact.
"We're asking for general good practice as no-one wants to see any tree die."
He advised people visiting forests to clean soil and debris from the tread of shoes if going from forest to forest.
Related Internet Links
The BBC is not responsible for the content of external sites.