Somerset animal sanctuary rescues bullied bald cow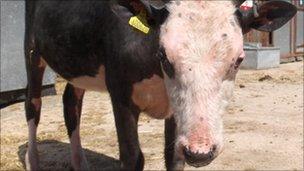 A cow which was bullied by the herd for being bald has been taken in by an animal sanctuary in Somerset.
The Hereford heifer is bald as she was born premature so hair did not have sufficient time to develop in the womb.
Naomi Clarke, of Ferne Animal Sanctuary in Chard, said they took Harriet in from a farmer because the other cattle were "beating her up quite badly".
The one-year-old animal had a severe gash and minor scratches to her leg where the cows had been kicking her.
Ms Clarke said the farmer had to separate her and keep her indoors from the rest of the herd which had been cornering and intimidating her.
"Cows were beating her up because she was different but fortunately our cattle here have accepted her but I think that's because they're all a little bit different," said Ms Clarke.
Harriet is bald mainly on her shoulders, neck and face. As her skin is black, the fact she is bald is not noticeable.
Every day, the team at the sanctuary lather her up in factor 50 suntan lotion and aloe vera moisturiser to protect her skin from the sun and prevent it from becoming dry and cracked.
Assistant manager Tara Nirula said Harriet liked being smothered in the cream as she enjoyed receiving attention.
"She's very friendly and very sweet," she added.
Related Internet Links
The BBC is not responsible for the content of external sites.