Terminally ill man to paint 'incurable optimists'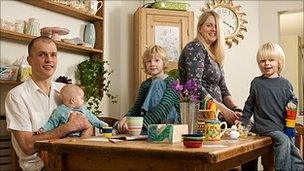 A father-of-two from Somerset with a terminal degenerative disease has set himself a target of painting 100 fellow "incurable optimists" before he loses the ability to.
Since Patrick Joyce was diagnosed with motor neurone disease (MND) in 2008, he has not wasted a moment.
He has got married, celebrated the birth of a baby girl and flown in a two-seater plane his father built.
The 38-year-old from Wells said he was determined to "enjoy what I've got".
He has two children, Elliot, aged three, and one-year-old Nancy. His wife Kathy also has Ruben, aged seven, from a previous marriage.
Mr Joyce said when he found out he had MND, a condition which erodes the body's ability to control muscles, it was devastating for his family.
"My life had been stretching out in front of me and then all of a sudden it was going to be really short. All the plans we'd had with the family were suddenly shattered.
"I stopped work because I thought I might be dead within six months and I didn't want to spend any more time putting boilers into council houses."
When he was diagnosed, his doctor said how long he would live for depended partly on his attitude.
He said: "You've got two choices - you either go down or you enjoy what you've got and I choose to enjoy what I've got.
"I've always been a cheerful person, and I've got the rest of my life the same as you've got yours but I'm just going to have to squeeze it into a shorter amount of time.
"It had to be someone - so why not me? There's other ways of looking at it - I could have been hit by a bus two years ago and just been killed so it's much better that I got this and this time with my family and friends."
The first thing he did after diagnosis was get married. Since then, he has run a half marathon and visited Alaska.
Mrs Joyce said: "It's almost as if before one challenge finishes Patrick finds something else to do so it's been quite busy."
Before he was diagnosed with MND, painting was Mr Joyce's passion.
He aims to continue painting for as long as his body will allow and has embarked on a project to paint 100 fellow "incurable optimists".
They include other people who have the disease, as well as his family, friends and carers.
"I want to highlight the fighting spirit and confidence of those living with MND with my art, in what time I have left," he said.
"Optimism is like hope, but more cheerful and confident. If you are optimistic, you will be motivated, get things done and ultimately you will be a happier person."
Being in a wheelchair has not hindered him either.
He said: "Me and a friend were bored so we thought we'd make a film and I wanted to see if I could get up the jumps on the skatepark in my wheelchair.
"We did get some funny looks but it was fairly quiet because all the kids were in school."
As his condition deteriorates, he is finding it increasingly difficult to do day-to-day tasks.
"It is depressing because something new goes wrong virtually every week," he said.
"A couple of weeks ago I had trouble getting my T-shirt off so I got my carers to help me and then I tried to do it myself but I was unable to.
"It's things like that - just little things - that can get you down.
"You learn not to start any sentence with 'I wish' or 'I could' or 'I miss' because it just doesn't do to think about those things, in particular with the kids."
Mrs Joyce said: "Yes it is difficult, I'm not going to lie - three small children and a husband that needs caring for is a lot of work and I spend a lot of time feeling tired but I wouldn't have it any other way.
"From the moment he was diagnosed I said I would be there for him and I mean it from the bottom of my heart."
Related Internet Links
The BBC is not responsible for the content of external sites.