Somerset woman's death was suicide says coroner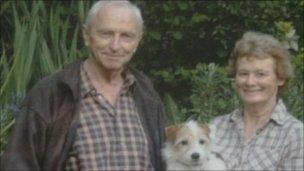 A coroner has recorded a verdict of suicide in the case of a woman from Somerset who died in a suicide pact with her husband which went wrong.
Angela Stanton, 74, was found dead at the couple's home in Westbury-sub-Mendip last September.
Dr William Stanton, 79, survived but died later of natural causes.
Coroner Michael Williams said he was satisfied that Mrs Stanton killed herself and had intended to take her own life.
A post-mortem examination revealed she died from suffocation.
Dr Stanton, who had terminal cancer, was arrested on suspicion of her murder and later bailed.
But he died in January, before a decision could be made on a possible prosecution.
A police investigation subsequently found there was no evidence of third party involvement.
The inquest at Wells Town Hall heard that the couple, married for 52 years, entered into the pact on hearing Dr Stanton only had six months left to live.
The coroner said: "In police interview Mr Stanton confirmed his wife had not wanted, as he put it, to be left behind, she had not wanted to struggle on by herself, hence the agreement they would take their lives together."
Dr Stanton had arranged for Nigel Taylor, a family friend and former policeman, to come to the house on the morning of 29 September 2009 so he could find their bodies, the inquest heard.
Speaking in December, Dr Stanton defended their failed suicide pact and said the pair had not wanted to be separated.
"What we did... was entirely reasonable for two rational, non-religious people who'd reached the end of their lives, which they'd enjoyed so much," he said.
Related Internet Links
The BBC is not responsible for the content of external sites.