Ketamine use 'increasing in Norton Radstock'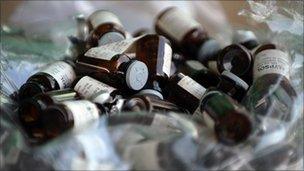 The number of young people using the class C drug ketamine has increased in the Norton Radstock area, according to a drugs outreach project in Somerset.
Project 28 said 17 to 22-year-olds were switching to the drug after the legal-high mephedrone was banned.
Users said they were taking the drug as it was easy to get hold of and claimed there was little else for them to do.
One said: "It's not a good thing but it is pretty much rampant in this area, it's the major thing."
The 19-year-old added: "Enough people take it in Norton Radstock as there's nothing else to do and a lot of people are on the free party scene so it's readily available and cheap.
"I know a lot of my friends who have gone downhill and turn from proper smart people to complete and utter junkie 'ket-heads'."
Another user, a 21-year-old man, said he had seen children as young as seven or eight take the drug.
"The older generation has brought it down and now a lot of little kids have seen it. I know some kiddies who were sniffing it in school.
"I buy a gram of ket for £15 and I'm wonked whereas coke (cocaine) costs £50. I can get it from everywhere; everyone's got it - I could ring someone up now and get it in five minutes."
Ketamine is used as an animal tranquiliser and an anaesthetic for humans. It can have serious health effects if used incorrectly.
Justin Wride, from Project 28, a young people's drug and alcohol service funded by Bath and North East Somerset Council, has been working to make young people aware of the drug's dangers.
Although he did not have figures to show the exact increase, he said they had seen a rise specifically in Norton Radstock and were targeting the area more heavily.
Avon and Somerset Police also said the number of seizures had increased and they were working with partner agencies to monitor and tackle the problem.
Mr Wride added that young people had been very comfortable talking to them about their useage.
"When you first meet young people, they don't open up to you straight away; it's only when you start to get to know them that they open up," he said.
"So if they're being this open about it when we first meet them, what else are they getting into? That's the scary thing."
Matthew Byrne, also from Project 28, said the increase could be down to mephedrone being more expensive after it was made illegal in April.
He said: "We realise that with all these young people you're not going to get them to stop, abstinence for them is never going to happen so it's about handing out helpful information so they know exactly what they're doing and maybe if they are going to try it, it might put them off a little bit."
Related Internet Links
The BBC is not responsible for the content of external sites.