Call for EDF to 'give more money' for Hinkley Point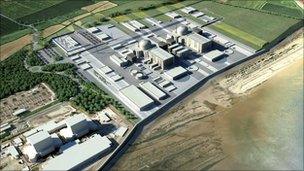 Residents affected by plans to build a nuclear power station in west Somerset have been urged to ask for more money.
Sedgemoor District Council's chief executive said the £1m community fund promised by EDF Energy was not enough compensation for residents affected by plans to build Hinkley Point C.
Kerry Rickards said EDF Energy needed to realise the impact it would have.
The energy company said the community would benefit from £100m a year during construction, and £40m thereafter.
A spokesman for EDF Energy said that money would provide a much bigger economic benefit to the area than a community fund.
He said the money would create jobs, boost skills and add to the local economy.
The community fund, which would provide sport facilities and children's play areas, is being discussed during stage two of the consultation.
Mr Rickards said £1m was not a lot of money as it worked out at around £15,000 a year over the lifespan of the nuclear power station.
He said: "It's not so much about the money, it's about making sure that the host community and its residents are properly compensated for impacts.
"It's all very well having a developer who is going to bring in jobs, and transport and all the rest of it, to produce their energy, and that's great and we want that and welcome that; but the message that needs to get through to EDF is that it's also got to be looking at the impacts on our hosts.
"So far, my view of the stage two consultation, is that they are failing to do that. Our urge to stakeholders and communities is to say 'look, don't let this pass you by, get involved'."
The deadline for stage two of the consultation is 4 October.
Related Internet Links
The BBC is not responsible for the content of external sites.