Residents pledge to 'fight' EDF over park and ride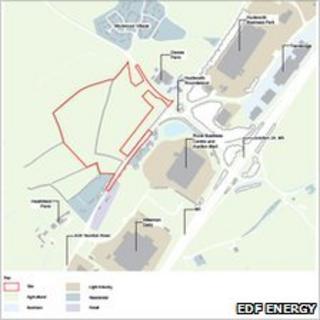 People living on a housing estate near Bridgwater say they will fight EDF Energy's plans for a park and ride.
The energy company wants to build the facilities just off Junction 24 of the M5 as part of its infrastructure for a nuclear power station at Hinkley.
Residents at Stockmoor Village said the area could not cope with the extra traffic and that homes had already decreased in value by up to £25,000.
EDF said the extra traffic to the area as a percentage would not be huge.
The energy company's plans include spaces for 670 cars and also a new freight depot. The total area of the facility would be 11 hectares (27 acres).
There are also plans for park and ride facilities at Cannington, just off junction 23 of the M5, and Williton.
Homeowner Sara Kimber said: "All the residents are in uproar about it.
"If this proposal goes ahead, it will be catastrophic. People will not be able to get out of the estate."
She said residents were not opposed to Hinkley Point C, but thought there were better locations to put the facilities.
David Eccles, from EDF, said the scheme would increase traffic slightly, however they were taking other measures to help ease congestion to the area.
He added the bulk of the traffic would not be in peak times.
"But nonetheless, any addition is going to be unwelcome and I recognise that," he said.
The consultation deadline is 4 October.