Cuts force Somerset County Council to shed 1,500 jobs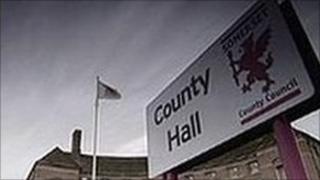 Up to 1,500 jobs are to go at Somerset County Council over the next three years due to a £75m budget deficit.
Almost all building projects are to be cut, including a new school in Yeovil, a children's centre in Castle Cary and a pedestrianisation scheme in Taunton.
Library services will be hit and and two-thirds of council-owned farms are to be sold off.
The public sector union, Unison, said the cuts would "pile misery onto the recession-hit region".
The proposed job losses will reduce the number of council staff from 6,500 to 5,000 over the next three years.
A trawl for voluntary redundancies had attracted interest from about 1,000 employees so far.
A recruitment freeze has delivered £1.5m in savings.
County council leader Ken Maddock said: "We are counting on private enterprise and hard work to get us out of this.
"We cannot go on - change is essential - we are bringing a new approach.
"We will have to stop some services and become a smaller and better-run authority. This is not my doing but it is my responsibility."
He added that that the authority was committed to a second year of no increase in council tax and priority would be given to make Somerset as business-friendly as possible.
Unison General Secretary, Dave Prentis, said: "Job losses on this scale will hit the people of Somerset hard, scaling back vital community services and hitting spending power.
"Cutting most new building projects will only make the dole queues longer. The jobs market is tough enough. People will struggle to find work elsewhere."