Boys, 12, made to scrub off Bath school graffiti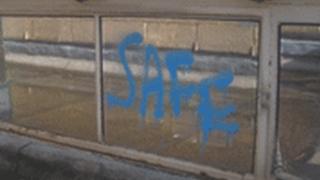 Two 12-year-olds who sprayed graffiti on walls and windows at an infants school in Bath have been made to help scrub off the paint.
Police used "restorative justice" to deal with the boys after the incident at Moorlands Infant School, over the summer holidays.
A force spokesman said they were given "a strong telling off" by police and the head teacher.
They were also told to write letters of apology.
The spokesman said the boys had spent a day at the school working with the council's anti-graffiti team to remove the damage.
'Sharp lesson'
The clean-up cost an estimated £2,000.
Beat manager Pc Mark Brain said: "The boys' parents were horrified when they saw what they'd done, and the boys themselves were mortified when they realised the damage and hurt they'd caused to the school.
"In the past these boys would have been arrested and ended up with a criminal record.
"As it is, restorative justice means they've said sorry for what they did, they've learned a very sharp lesson and we hope they'll never offend again."