Man Utd fan stops home being painted in Man City colour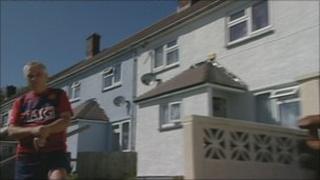 A Manchester United fan has won a battle to stop his house being painted in the rival colours of Man City.
Edward Bowkett, 61, from Peasedown St John, Somerset, complained after the housing association which owns his home planned to paint it sky blue.
Mr Bowkett said his anger was not just for "football reasons" but also about the possible "stigmatisation of council houses".
An exception has been made for his house, that has now been painted white.
Mr Bowkett has supported Manchester United since childhood and went to his first match when he was four years old.
His home is owned by Somer Community Housing Trust. A few months ago it consulted tenants to ask them for their preferred choice of colour as it would be re-painting the properties.
Mr Bowkett and his wife chose light green but noticed decorators were painting all the houses in the street sky blue.
He then discovered all houses would be painted this colour as it was a "majority decision at the meeting".
The father-of-six said: "Blue makes you feel cold and unwelcome. Imagine waking up in the morning with six inches of snow around you like last year and seeing blue houses.
"It looks like Smurfville here now. I would rather they were all red and white."
Mr Bowkett complained to Bath and North East Somerset Council, which then spoke to the housing trust on his behalf.
Angela Gascoigne, from Somer Community Housing Trust, said: "We're all different - we are all individuals - we do respect that at the trust.
"I'm really sorry that we've caused Ed so much unhappiness. It's not what we wanted to do and we will put it right."
The majority of the houses in the terrace where he lives have been painted sky blue and bright pink.