Somerset cadets 'humbled' by WWI pilgrimage to Ypres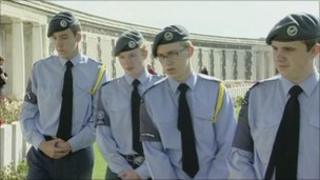 Four Somerset air cadets taking part in a pilgrimage to the World War I battlefields of Belgium said they had been humbled and deeply moved by the experience.
The four teenagers, from Glastonbury and Street, joined veterans and British Legion members from across Somerset who made the journey to Flanders in Belgium to lay wreaths in honour of Harry Patch - the "last Tommy" who died last year at the age of 111.
Harry was the last British survivor of the World War I trenches. He was wounded in an attack at Passchendaele, which killed three of his friends.
On Saturday, cadets Harry Saunders, 18, Andrew Tolson, 17, Andrew Cousins, 17, and Phillip Endacote, 17, placed poppy crosses at a memorial to Harry at the very spot where the attack happened.
Earlier they had visited Tyne Cot Commonwealth War Graves Cemetery in Ypres, the largest cemetery for Commonwealth forces in the world.
Harry Saunders told the BBC: "You just have tears in your eyes looking at the headstones and realising that some of those who died were just our age. It makes you think."
Andrew Cousins added: "I thought I was prepared for what I was going to see but I wasn't.
"Visiting the spot where Harry Patch was wounded and seeing his memorial was a really moving experience and we were proud to be able to lay poppy crosses there in his honour."
The trip was organised by Robin White, chairman of the Wells branch of the Royal British Legion, who said prayers at the cemetery and then laid a wreath at the memorial on behalf of Fletcher House in Wells, the care home where Harry lived in his final years.
The branch has been making this trip for six years - but this is the first time they have brought a group of young people.
'Sacrifices made'
Part of the money for the cadets' trip was raised through the newly formed Harry Patch Memorial Fund.
Mr White said: "It is so important that this generation understands the sacrifices made so many years ago.
"We really hope that in each year to some we will be able to bring a new group of young people. Getting the message across to them is what this is all about."