Somerset pensioner stopped dog attacking pony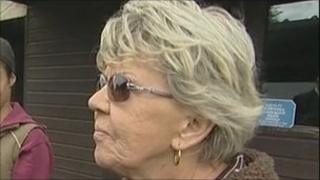 A 71-year-old Somerset woman has been praised by police for helping to tackle a dog that was attacking a pony.
Iris Jones, from Sand Bay, was in her home when she spotted the dog biting the pony on its muzzle.
The dog was dragged away from the horse by Ms Jones who suffered gashes to her legs when the pony reared.
Police were called to the scene and the horse and dog were brought under control with help from the public. They have launched an investigation.
The pony - called Sooty - was injured in the mouth and neck in the attack which happened at Sunday lunchtime at Beach Road.
'Pure instinct'
The dog, believed to be a Staffordshire bull terrier cross, was taken away by police and may be destroyed. Its owner has been interviewed and faces prosecution over the incident, police say.
The dog had also bitten another pony and tried to bite two riders.
Ms Jones said: "The police are calling me a heroine because nobody else would tackle this."
She told BBC Points West she grabbed the dog's collar and pulled with all her might.
"I just did what I had to do out of pure instinct and my love for animals".
Sooty's owner Nina Scott said: "I hate to think what might have happened if Iris hadn't been there."