Maternity sleepover scheme at Bath hospital to continue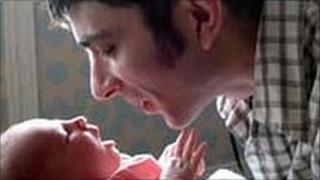 A pilot scheme allowing fathers of new babies to stay overnight on postnatal wards at Bath's Royal United Hospital (RUH) has been made permanent.
Wiltshire's maternity services said the Partners Staying Overnight project had been a "huge success".
The scheme, which began in June, allows partners, or another adult family member, to sleep over after a birth.
The National Childbirth Trust said it was an important step in supporting the beginning of a family.
Spokesman Noreen Hart said: "The feedback from families is that this has made a huge difference to partners' involvement in their baby's first hours as well as both parents' overall satisfaction with their experience."